Ellementry was Founded in 2018 by Dileep Industries, A Company that has been pioneering handcrafted goods to the Global Markets for over 30 years. inspired by Homemade Artistry, Ellementry introduced Sustainable Homeware to bring international standard Goods to the Indian Audience, Following the Belief that "what Looks Good Should also Do Good." Here are the 10 Best ellementry Homeware products you will Love Take a Look!
1. Ellementry Erebus Marble Mortar
Mortar and Pestles Have been a Crucial tool of Indian Culinary Tradition, that Still Persists in almost every Indian Household. While offering Nostalgia, This Modern Stone Crusher's Unique Design holds all the Ingredients Together and Doesn't let them Slip away making it convenient to Grind Vegetable Condiments. Moreover, it is an Ideal Tool for Grinding Dry masalas, it Not Only Transforms the Texture of the Food But also Releases the Aroma and Flavors. Furthermore, this mortar and pestle Infuse an Earthy Smell to the Spices and Vegetables making them more flavourful.
2. Ellementry Glass Water Dispenser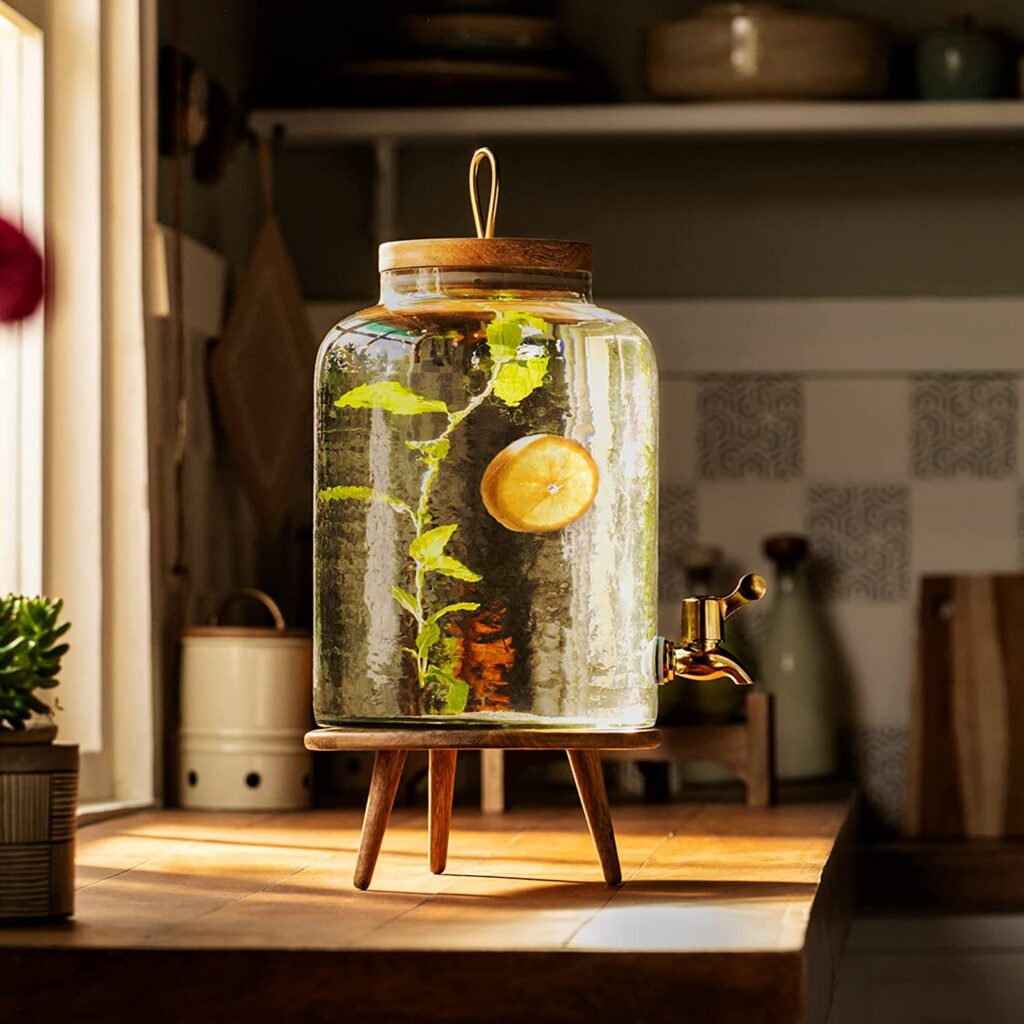 why are glass dispensers best? The Reason for using a Glass water dispenser is that it doesn't leach out harmful Chemicals as well as it Does not absorb Hazardous chemicals Like bisphenol A (BPA) Present in the Beverages? Moreover, it Maintains a Steady Temperature and Doesn't absorb Foreign flavor. This Glass Dispenser from Ellementry is a Stylish and Healthy Take on Regular Dispensers that will not only be stylish on the kitchen countertop but also can be used for serving refreshments such as fruit juices.
3. Ellementry Glass Solid Bowl with Wooden Stand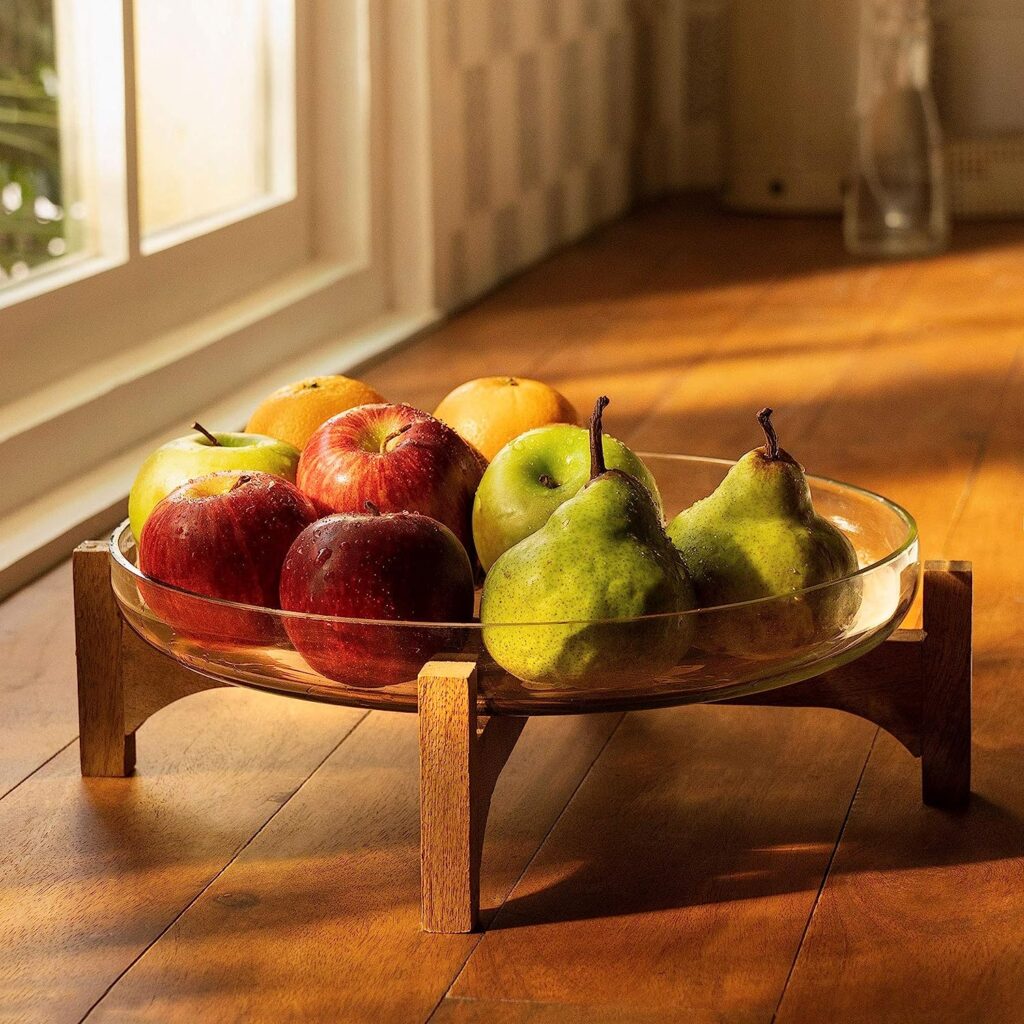 This Solid Glass Bowl With Wooden Stand from Ellementry can be Used for Multiple Purposes. It is a Statement Piece that Can be Used For serving Rice, Curries, and Dry Fruits which will not only Look Appealing in the Bowl But Will Also Keep the Taste of Food Preserved Other Than Fibre and Plastic that infuses Toxic Chemicals. Moreover, it Can Be Used as a Floating Flower Bowl as its Wooden Stand Helps the Bowl to Sit Poisely.
4. Ellementry Leaf Glass Cloche with Wooden Base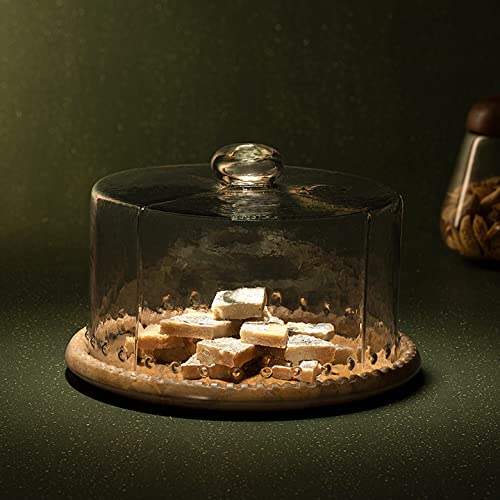 Isn't it a Piece of Art? The Aura of the Piece itself Reflects Class! Always remember, Presentation is an important part of Wining the Guest before the feast. With a Fusion of glass and wood, this Beautiful Cloche is etched with a leaf Designed in the base, enhancing the Charm of the Desserts, Fruits, and other ailments. Moreover, its Transparent glass cover looks so chic and makes serving interesting and Safe.
5. Iris wooden 2-tier Roti box with stand
Wondering about the Purpose of Roti Box Right? The Foremost reason is the Preservation of Freshness of the Rotis and Other indulgences. Wooden Roti Boxes are built with active ventilation that maintains the soft and Crisp Conditions of Rotis. Moreover, Other than Being Eco-Friendly and a Non-Reactive material, wood has the Property of Retaining Flavor. With all These Benefits it also has 2 Sections which make storing 2 Different foods Separate One Can be utilized for Rotis and the second can be used to store Sweets or Papad Etc.
6. Ellementry Carbon Ceramic Chip N Dip
Watching a Movie on Saturday Evening in the Comfort of your Bed Enjoying your Favourite Snacks? Isn't it Therapy? if you are Someone who Messes the Bed with Too Much server ware then this Chip n Dip is your Saviour! This Carbon Ceramic Chip n Dip Plate from Ellementry Comes with a Built-in Bowl That Doesn't let Condiments Slip away, Making it Convenient to use with other Guests at Game Night or a Party.
7. Ellementry crown glass bottle with a tumbler
We all are advised to stay Hydrated still we lack the Consistency to Drink More Water. One of the exciting ways to Remind yourself is to use a Special Bottle Curated with Affirmation or Gentle Messages Written on it Like "Stay Hydrated" or "Drink Water" etc These Mini Messages have an impact on our mind reminding us of all the benefits water has. This Glass Bottle is a Versatile Piece from Ellementry that can be used as Home Decor and Serveware. From Storing Colorful Juices to Milk this Bottle will Serve its Purpose Completely.
9. Ellementry Terracotta Sprouter with Wooden lid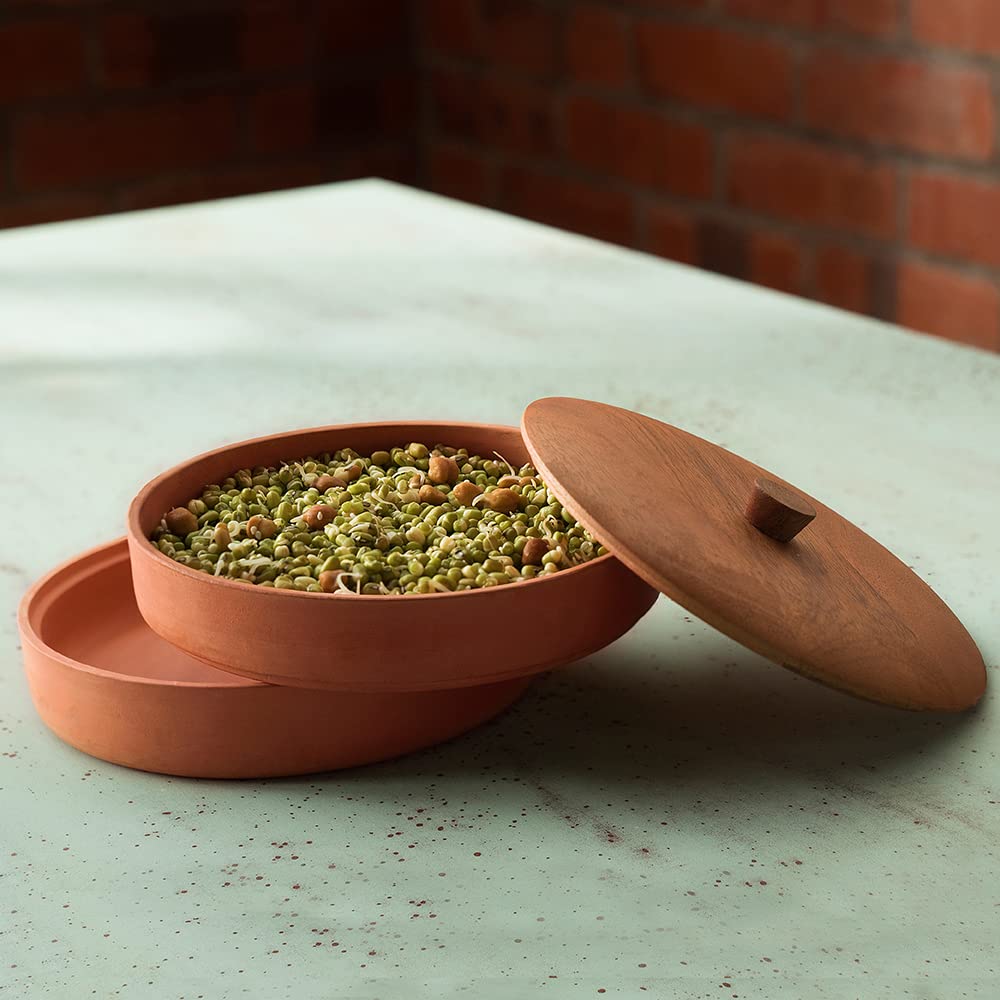 In times like today where new Diseases are rising it is even more important to Boost our Immunity and Consume Nutritious Food. One of the Ideal ways of Gaining Benefits from grains is by Correctly Sprouting them. Thanks to Ellementry for Bringing back the Traditional Sprouter that was used in Olden Days for Sprouting Grains. This Terracotta Sprouter from Ellementry is Designed Contrived to Warmly Supply the Right amount of Moisture to the grain and the Rest is Absorbed by the Terracotta which might affect the nutritional value of the grain.
10. Ellementry Teravak Embossed Planter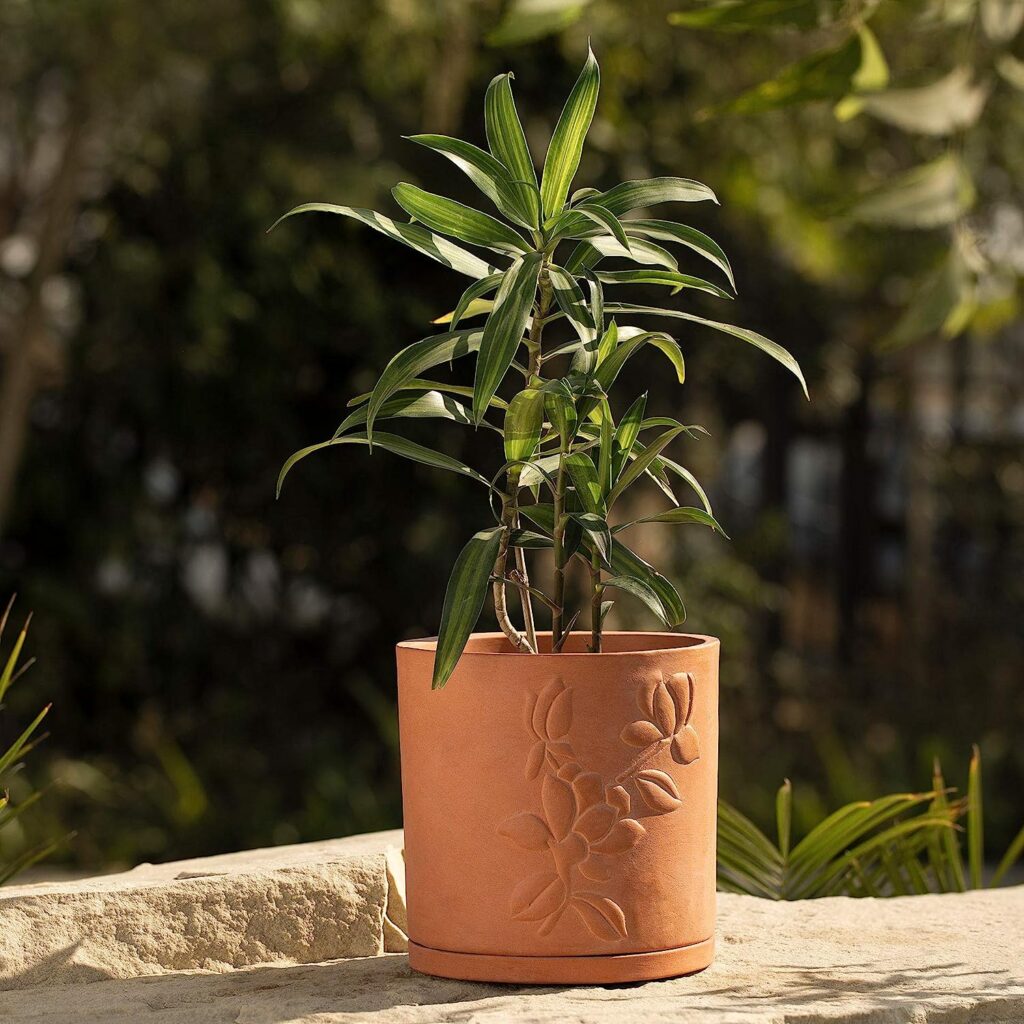 This Terracotta Planter is known to be the best when it comes to being an eco-friendly Choice. Moreover, it is a porous material that Allows air and moisture to pass through the pot walls and promotes healthy root growth by preventing waterlogged soil and root rot. this planter helps to Aerate the soil naturally and provides better oxygen circulation to the roots. Moreover, it Prevents Overwatering and Algae Growth while enhancing the overall look of your garden or indoor space.
Similar Articles:
---
Recommended Article:
"HUGO" is a fashion brand that stands for progressive looks and an edgy, urban attitude. Hugo Boss is a well-known brand that offers a range of fragrances for both men and women. They have several lines of fragrances, each with its own unique scent profiles. here are the 7 best Hugo Boss perfumes for Men …

Ellementry was Founded in 2018 by Dileep Industries, A Company that has been pioneering handcrafted goods to the Global Markets for over 30 years. inspired by Homemade Artistry, Ellementry introduced Sustainable Homeware to bring international standard Goods to the Indian Audience, Following the Belief that "what Looks Good Should also Do Good." Here are the …

Lavie is a World Class handbag Brand that designs Different Types of handbags From Functional to Fashionable to Casual Lavie Offers Handbags for Multiple Purposes Beyond Just Carrying around. From Work to Play, it has a broad range of Bags. it has Everything You need. Here are 8 lavie handbags that will Make you Stand …