Glass Carafes are Designed to Give your Kitchen table top a Modern Look with the Facility to Brew your Favorite Beverages Such as Tea, Coffee, and loose tea Leaves. but the thing that one needs to look at in a glass carafe or kettle is the Material used for building the Glass kettle. Here are some of the best Glass Kettle with great Quality, Elegant Designs, and Amazing Features:
1. Borosil Carafe Flame Proof Glass Carafe with Stainer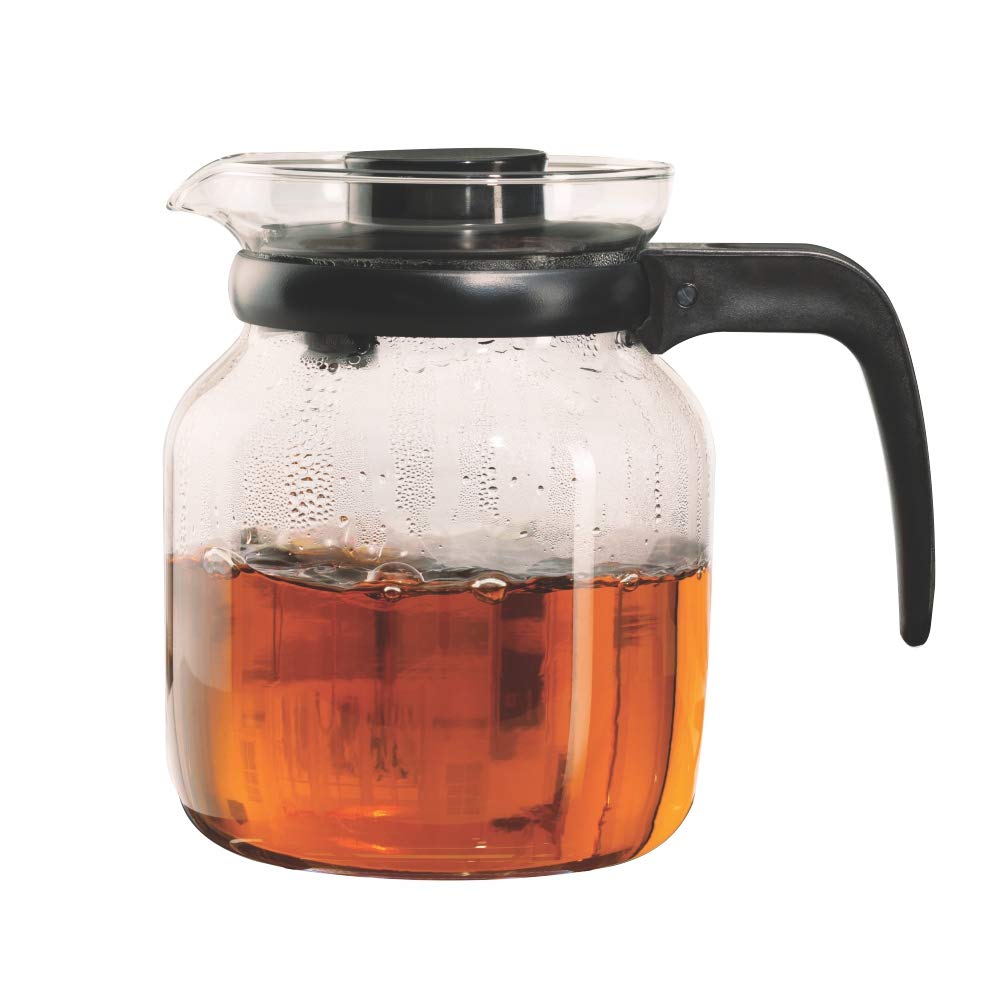 Borosil's Flameproof Carafe has made making morning cups of coffee and tea Easier by Designing a Glass Carafe that can be Directly placed on the Flame due to its 100% Borosilicate glass which is more complex than Ordinary Glass. Moreover, its extremely Temperature Resistant capability can withstand temperatures up to 350°C, so you can put it directly into the Microwave straight from the Freezer and Vice-versa. Furthermore, Unlike Plastic, the Borosil Carafe Doesn't Leach Chemicals Even after Continues Use Making it Food Safe.
2. Borosil Carafe Flame Proof Glass Carafe with Infuser
You Must be Wondering Why this Carafe? what's Different? This Borosil Carafe Has a Built-in Infuser that Lets you Steep Your Favorite Loose Tea Leaves without any Hassel. Its Durable Borosilicate Make can Withstand Temperature Up to 350°C Making it Dishwasher, Microwave, and Freezer Safe. Superior to any Ordinary Glass and Plastic it Remains scratch-proof, Doesn't Get Milky After Repeated Use, and remains Crystal clear Throughout the life of products.
3. Wonderchef Piccolo Glass Tea Infuser with Plunger
Wonderchef is a World-Class and Most Trusted Cookware Brand Founded By the Great Chef Sanjeev Kapoor. This Glass Carafe is one of their Excellent Creation, it's Sleek Glass Shape is Made of Heat-Resistant Borosilicate Glass which Prevents Alkaline and Acid Corrosion. With its Built-in Infuser, one can Brew Loose Tea Leaves, Oolong Tea, Herbal Tea, Rooibos Tea, and Much More. Moreover, it has a Non-Corrosive stainless steel Infuser that has Ergonomically Design which Eliminates the Need for a Sieve while Preventing Spill and Rust.
4. Brayden Aquo 11 Smart Electric Glass Carafe
Brayden Aquo 11 is a Multipurpose Electric Glass carafe that Allows you to boil eggs, Make Instant Soup, Porridge, and Noodles Along with you can Brew your Desired Flower or Fruit Tea, Coffee, and Herbal tree with the Convenience of 20 Preset menus. It has a High Corrosive Resistant Stainless Steel Food plate and Digital LED Panel With Smart Touch Menu Options That Constantly Maintain the Temperature and Make it Easy to Operate.
5. Treo by Milton Borosilicate Carafe Slant
Treo by Milton is a Classy & Corporate Glass Carafe that can be Directly Put on the Flames and Microwaves without any Worries. Unlike Ordinary Glasses or Plastics, it Doesn't Leach Chemicals into the Drinks which Assures Food Safety while Maintaining its Transparent Look it Doesn't Turn Cloudy even after Repeated usage. it is Built with Fine Borosilicate Glass that can Withstand High Temperatures. Moreover, it is optimal for Storing Hot and Cold Liquids for Longer Periods.
---
Recommended Articles: