"HUGO" is a fashion brand that stands for progressive looks and an edgy, urban attitude. Hugo Boss is a well-known brand that offers a range of fragrances for both men and women. They have several lines of fragrances, each with its own unique scent profiles. here are the 7 best Hugo Boss perfumes for Men you will love.
1. Hugo Boss bottled
Released in 1998, Bottled is a classic and timeless fragrance known for its versatility. The Top Notes are Blend Apple, Plum, Bergamot, Oakmoss, Lemon, and Geranium. The Middle Notes are Cinnamon, Mahogany, and Carnation. The Base Notes are Olive Tree, Vanilla, Sandalwood, Cedar, and Vetiver.
Bottled is a Versatile, Warm, and Sophisticated scent suitable for both day and evening wear.
Pros
Balanced fragrance
Mood adjectives- Iconic, Elegant, Masculine
Ideal for all seasons
Suitable for every occasion
Soft and clean scent
Affordable
Good Longevity
Great Projection
Cons
Sweet Vanilla May be Overpowering for Some Users
2. Hugo Boss Night
Released in 2010, Hugo Boss Night is a Woody Aromatic Scent for Men. The Fragrance Opens with Lavender and Aromas of Birch Tree while the Heart has the Aroma of African Violet, resting on the base of precious Woody Notes of Louro Amarelo Tree and musk.
Bottled Night is a more intense and Mysterious version of the original Bottled scent. It is a Powerful and Masculine Scent perfect for nighttime wear.
Pros
Perfect mild floral in a masculine way
Alluring and Captivating scent
Ideal for Winter and Fall
Night Scent
Good lasting
Cons
3. Hugo Boss Bottled Parfum
Released in 2022, Parfum is a Leather fragrance for Men. The Top Notes are Oblibanum and Mandarin Orange. The Heart Notes Have Fig Tree and Orris. The Base Notes are a Blend of Cedar and Leather.
Parfum is a Luxurious Version of Boss Bottled Fragrance. It is a Woody and Leathery Scent ideal for a Mysterious Masculine Man.
Pros
Unique Scent Profile
A balanced mix of Leather, Woods, Fig, and Iris
Captivating Woody Scent
Ideal for Fall and Winter
Night Scent
Good Lasting
Cons
Leathery Scent Might Not Please Some Users
4. Hugo Boss The Scent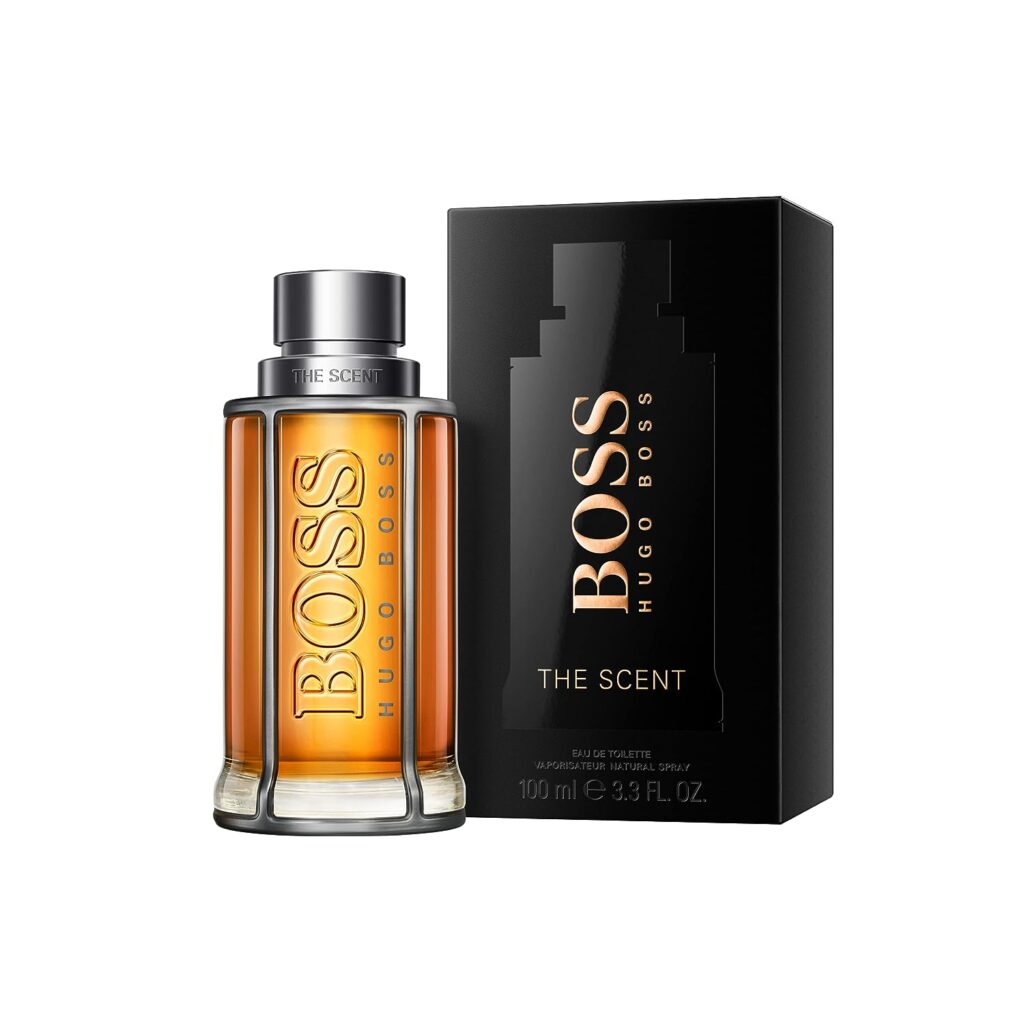 Released in 2015, The Scent is a Spicy Aromatic Fragrance for Men. The Fragrance Opens with Ginger, Mandarin Orange, and Zesty Bergamot. The Middle Notes have aphrodisiac Manika Fruit Mixed with Tones of Lavender Creating a Sensual Heart. It has an Accord of leather that Creates a Magnetic Masculin Base.
The Scent is a Sense-tantalizing Scent Reflecting Confidence and Charisma.
Pros
Rich and Refreshing Scent
Mood Adjectives- Sensual, Masculine, and Desirable
Ideal for Spring, Winter, and Fall
Day and Night Scent
Cons
5. Hugo Boss Mens Energise
Released in 2005, Energise is a Woody aromatic scent for Men. The Top Notes are a Blend of Pink Pepper, Mint, Kumquat, Pineapple Leaf, Lemon, Mandarin Orange, and Cardamom. The Middle Notes are Jasmine, Freesia, Nutmeg, Juniper, Clary Sage, and Coriander. The Fragrance Ends With Leather, Vanilla, and Teak Wood.
Energise is a Youthful and Refreshing Scent. Ideal for Gym and Casual wearing.
Pros
Sharp, Sweet, and Refreshing Scent
Mood Adjectives- Masculine and Fresh
Ideal for Summer and Spring
Day Scent
Cons
6. Hugo Boss Tonic
Released in 2017, Tonic is a Woody Spicy Fragrance for Men. The Top Notes Have Fruity Openings with Apple, Orange, Grapefruit, and Lemon. The Heart Notes are a Spicy Blend of Ginger, Cloves, Cinnamon, and Geranium. The Base Closes with Woodsy Notes and Vetiver.
Bottled Tonic is a Woody-Citrusy Fragrance, Designed For a Modern Man who Aspires to be Successful.
Pros
Warm and earthy Scent
Mood Adjectives- Sense Tantalizing, Masculine, and Fresh
Ideal For Spring & Summer
Day Scent
Good Sillage
Cons
7. Hugo Boss Infinite
Released in 2019, Bottled Infinite is a Woody Aromatic Fragrance For Men. The Top Notes Have the Crisp of Apple, Freshness of Mandarin Orange, Balanced Spiciness of Cinnamon and Sage. The Middle Notes is a blend of Lavender, Rosemary, and Patchouli. The Base Notes are Sandalwood and Olive Tree.
Bottled Infinite is an Empowering and Fresh Fragrance for a Workaholic Gentleman. BOSS Bottled Infinite represents the Man of Today's aspiration to reconnect with his inner self.
Pros
Crispy & Energising Scent
Mood adjective-Fresh, intense, masculine
Ideal for Spring, Summer, & Fall
Day Scent
Decent-Lasting
Cons
---
Hugo Boss is a German Company Founded in 1942 by Hugo Boss. The Company is Specialised in Manufacturing Fashion and Lifestyle Products and Goods. The Company Entered the Fragrance Industry In 1985 By Launching its First Perfume.
---
Recommended Article: