A Messy Table top affects Progress in Completing a Task and A well-organized Tabletop is so underrated but it is one of the best ways to Save time. Moreover, it keeps your Stationary and documents unharmed. An Organized Tabletop not only Looks Adorable but also keeps your Mind Peaceful because you don't have to Search for Anything and you can quickly finish your task, as well as an organized Desk and Beautiful stationery, look pleasing. Here are some of the Adorable Tabletop Supplies you will Love to Have:
1. Clear Acrylic Table Top Elevator Writing Desk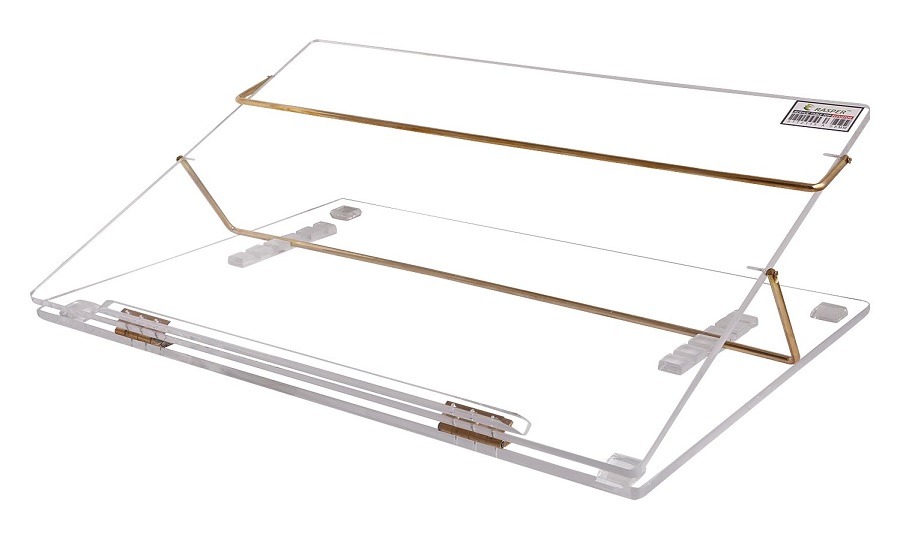 This Premium Quality Acrylic Writing desk Helps you Focus on the Laptop Screen Due to its Convenient Design. its Comfortable design Protects your eyes from Straining and Neck pain. It's Not Only Useful for Placing Laptops at desired height But you can use it to Full fill your Writing and Reading Needs.
2. LUXE Rose Gold Metal Desk Organizer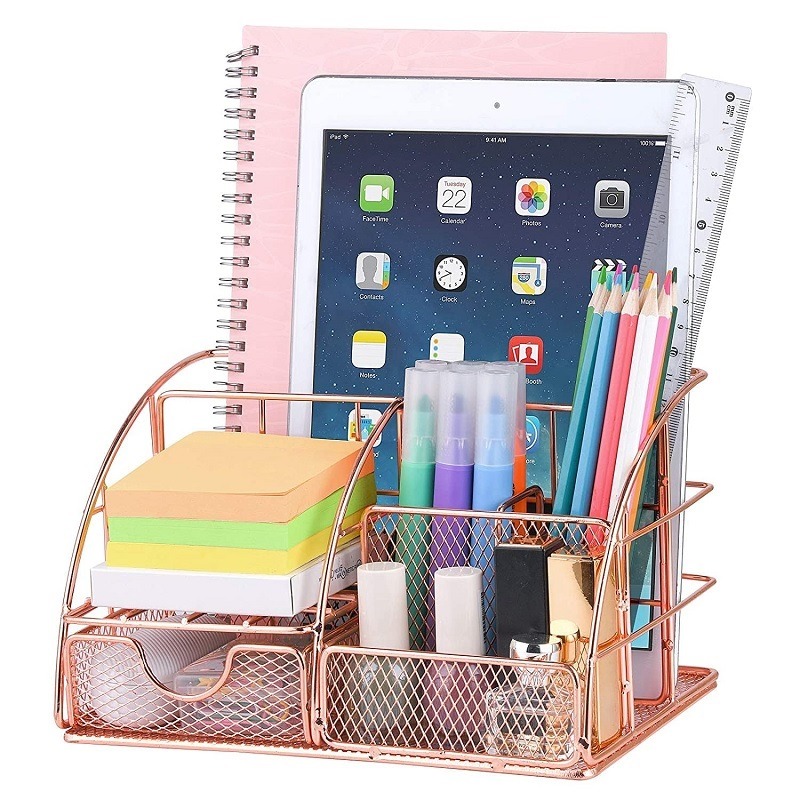 This Pre-assembled Metal Desk Organiser Comes with five Compartment with one Sliding Drawer. It Space Saving Designs Keeps all your Stationary Organised while staying out of your way. its Elegant Color and Practical design Keep your Desk Pleasing.
3. LAURET BLANC Spiral Notebook
This Beautiful Spiral Notebook Comes with Unruled Pages that make it Versatile it can be used as a Journal, Travel Diary, or Weekly Planner. it Can be Used for Gifting Purposes too. Having an Attractive Notebook Lets you Damp your Thoughts and Keeps your Mind Stressfree.
4. Colorful PVC Binder with Snap Button Closure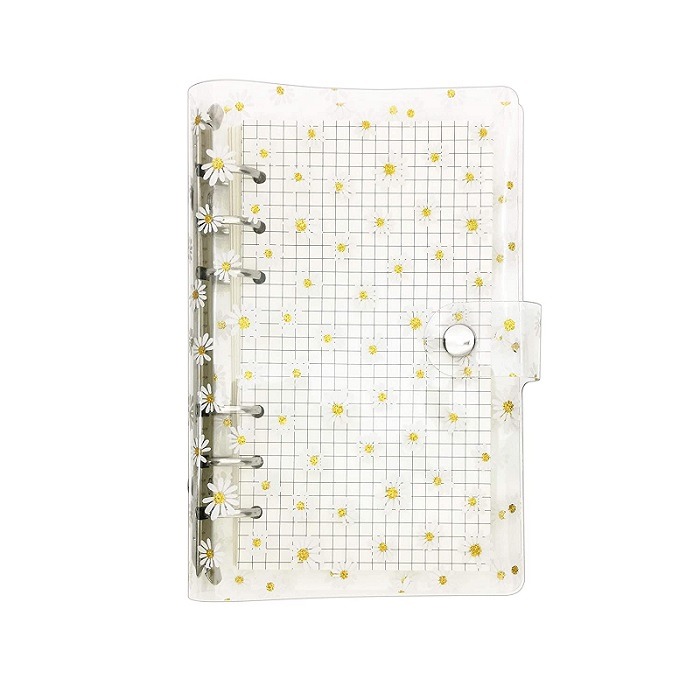 This Snap Button Closer Notebook has Ringer Binder that Lets you add New Notes and Important Documents. it is Very Useful for People Who Create New Ideas and Schedule daily. Its adorable design evokes your Creative Site and with the help of this Notebook, you Can Create an Amazing Journal.
5. Anti-Slip Metal Book Holder Stand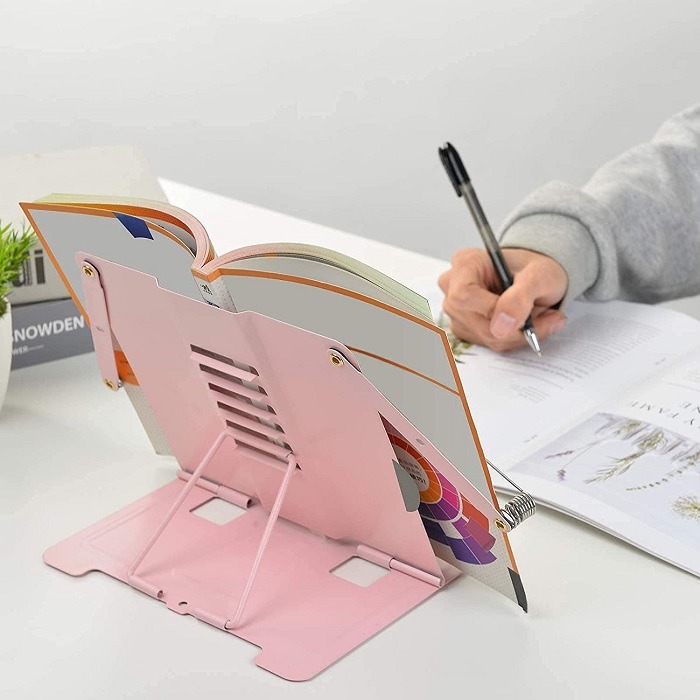 This Metal Book Holder is an ideal gift for a Student it Increases the Focus on the Book and Prevents Neck Fatigue. This Anti-slip Book Holder Keeps the Pages in one place so you Can read and Take Note Without Placing Hands-on Book. It Can Also be Used in the Kitchen For Placing Recipe books and Cook Without Staining them.
6. 3Lines Clear Acrylic Board Daily Planner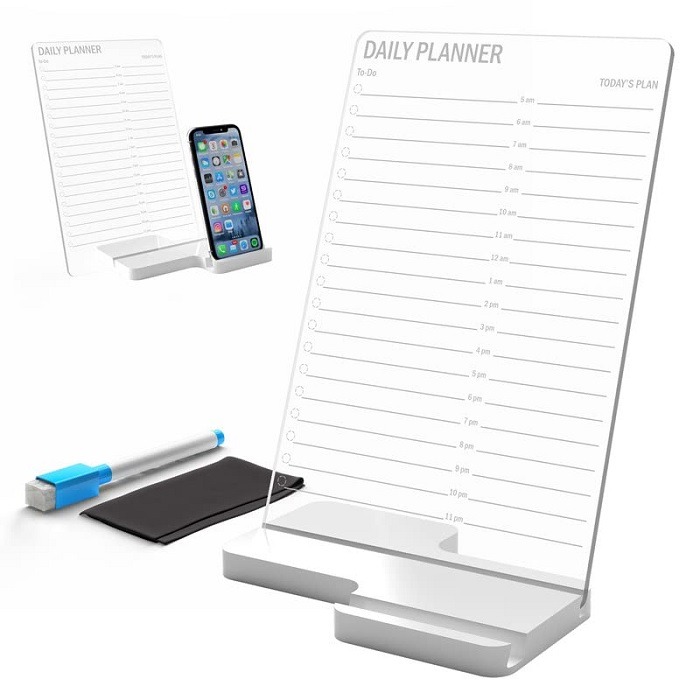 Instead of trying to Keep everything in Mind, try to remember things when you need them. you Should Write the tasks in this reusable to-do list planner and Put this planner in front of you. It reminds you about Important Dates and will keep you organized. it will Increase your Focus and Productivity. This Acrylic Daily Planner is a Useful Gift for People Who Need to Create a New Schedule every day Rub the Board and Write according to Your Plan.
7. Expandable Bookcase Desktop Bookend Stand
This Expandable bookend Holder helps to Organise your Desk Without Taking up Much space. It Has 3 Divider that Keeps the Books, magazines, DVDs, and Recipe Books stable even if you take a Book Out other books will remain unshattered. it Has one External Pen Holder for Storing your Writing Tools Together So You Don't need to search for them at the time of Need.
8. Acrylic Pen Holder
This Transparent Stationery Holder has 7 Compartments For Holding Notebooks, Pen, Sticky Notes, dairy, and Colors Pencils. it is a Smart Choice to Keep your Desktop looking Neat and your Stationary Organised. it Will Look Beautiful in your Living Room, Office, and Bedroom. it can Hold newspapers, Paint Brush, Mail, and letters.
9. Desk Lamps for Study Table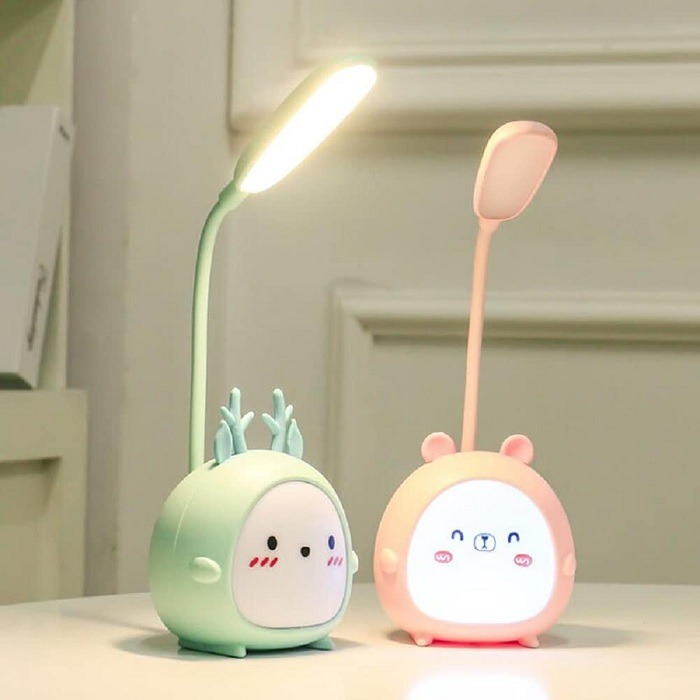 This Cute Light Lamp is Built with a Touch sensor that Switches On the Lamp every time you Touch it. it has three Settings of Light to Adjust the Brightness According to your Needs.
10. Under Desk Drawer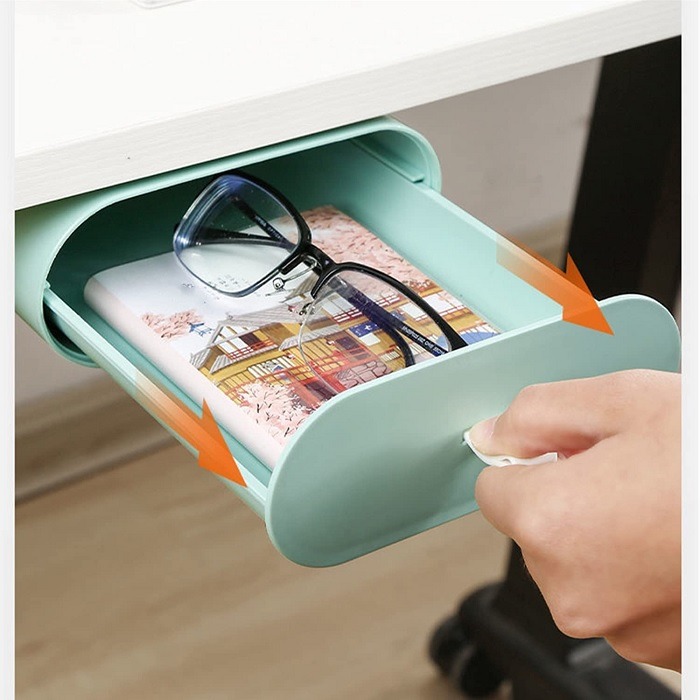 This under-desk drawer is a lifesaver it can be used for Storing small sundries Such as Pens, rulers, glue, compasses, adapters, paper towels mobile phones. it will keep your Desk space free and well organized.
11. Cable Management Box
This Cord Organiser will Help you to Keep the Power strips, Wires, and chargers organized without any mess. its Compact design will not take up much space and will suit any Surroundings.
12. Expandable Folder
This Beautiful Corslet File Folder will Keep your Documents Water and Moisture-free. it's Lightweight and Portable Design will easily fit in your backpacks and briefcase. to make it more convenient for you these expandable folder comes with 5 pockets to arrange the documents according to the way you want.
---