Lavie is a World Class handbag Brand that designs Different Types of handbags From Functional to Fashionable to Casual Lavie Offers Handbags for Multiple Purposes Beyond Just Carrying around. From Work to Play, it has a broad range of Bags. it has Everything You need. Here are 8 lavie handbags that will Make you Stand apart.
1. Lavie Embossed Satchel Handbag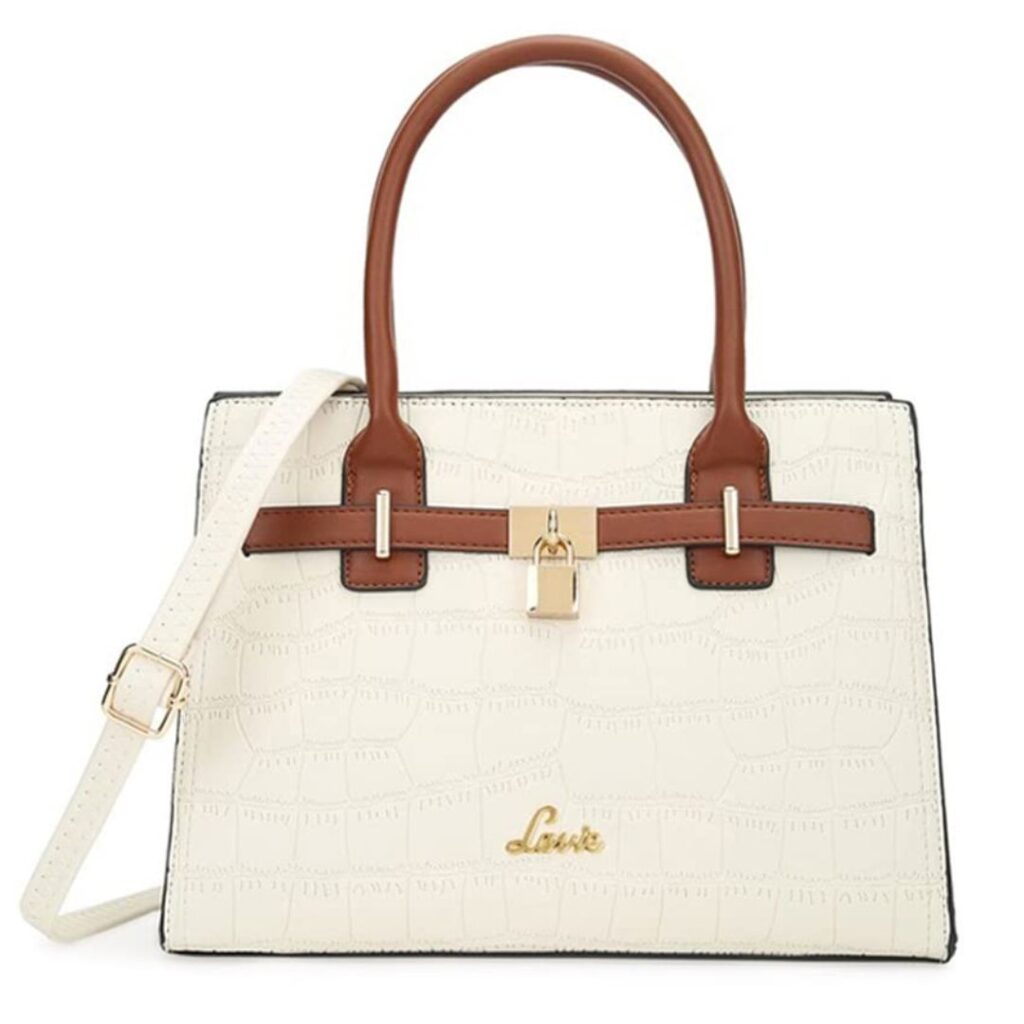 This Arresting Embossed Satchel has a Front Designer Strap embellished, with a lock making it Aesthetically appealing and Functional to carry all your essentials for the day. The Bag has a well-stitched inner lining that provides Sufficient space with easy Accessibility to the Daily essentials through an upper zip. This Bold yet Classy handbag adds charm to your Femininity with its Premium Look.
Features:
Size- 29.5L X 12W X 21H cm (Medium)
Can Carry an A4 size Notepad
A 7.9 Inch Tablet or iPad
Premium Embossed Texture
Adjustable & Detachable Crossbody Stap
2. Lavie Faroe Satchel Handbag
The Faroe Satchel bag from Lavie has a Vertically Textured Pattern with two Zippers in Front. it is a Spacious Handbag with two main Compartments, Divided by Zipper Storage, Slip Pockets alongside 1 zip pocket providing Enough Space for Sunglasses, Hairbrush, Keys, etc. Moreover, for Enhancing its Aesthetics it has Sleek slant pockets with buckles and zippers.
Features:
Size- 35L X 13W X 30H cm (Large)
Adjustable Sling Belt
Spacious for Shopping Spree
Can Carry a 14-inch Laptop
Available in a Vast Array of Colors
3. Lavie Luxe Yalon Satchel
This is a Medium Sized Satchel that comes with Top Zip Closure for Safety, it has two compartments in its interior and Padded tablet sleeves with Snap Closure. it has an Adjustable Sling Strap and Dual handles that Allows you to Carry it Around at your convenience. Moreover, this Satchel's Minimalistic and Chic Design Makes it ideal for Casual and Formal Occasions.
Features:
Size- 33L X 12.5W X 26H cm (Medium)
A 7.9 Inch Tablet or iPad can fit inside
Can Carry an A4 size Notepad
Premium Quality PU Synthetic
4. Lavie Quilt Satchel Bag
This Quilted Satchel with Shiny Metal Hardware is Crafted by Lavie to Match your fashion Sense. Along With its Sophisticated Design and Functional Silhouette, it offers you an Adjustable and Detachable Strap to Ensure Comfort. it comes with a Top Zip Closure to keep your Essentials Accessible. Elevate your Look with This stylish piece.
Features:
Size- 24L X 11W X 15H cm (Small)
Available in 2 Colors
Handy and Trendy
Ideal for Casual Occasions
5. Lavie Amara Round Potli
As you Embark on Your Day, this Potli's Eye-Catching Embroidery Pattern will add the Right Amount of Elegance to your Attire. For Convenience, Its Handles are Made with high-quality Pearls that Look Beautiful when you Carry the Bag. It Has Drawstring Closures that keep the Valuable safe. This Potli Has Sufficient Space for Carrying a Large Phone, Cosmetics, and Other Jewelleries. With this evening Bag upgrade your wedding or Festive Look. Hit the Roads and Flaunt your Style with these stylish Potli from Lavie.
Features:
Size- 22L X 1W X 23H cm (Small)
Embroidered Fabric
Goes Perfectly with Ethnic Wear
Match it With a White and Light Pink Saree or Suit
6. Lavie Luxe Gypsy Satchel
Lavie Launched a "Lavie Luxe" Collection for a Premium Range of Handbags to Celebrate Luxury and Style Together. This Rich Satchel is Called Gypsy, from their Luxe Collection. This Satchel has an Easy to Carry Around Design Equipped with Short Handle at the top along with an Adjustable and Detachable Sling Strap. Lavie Offers this High-Quality and Well Stitched Satchel to Carry Around your essentials in an Organised Fashion.
Features:
Size- 23L X 9W X 15H cm (Medium)
Pebble Texture
Twist Closure Button
Ideal for Formal and Casual Occasions
7. Lavie Glossy Pammy Satchel Bag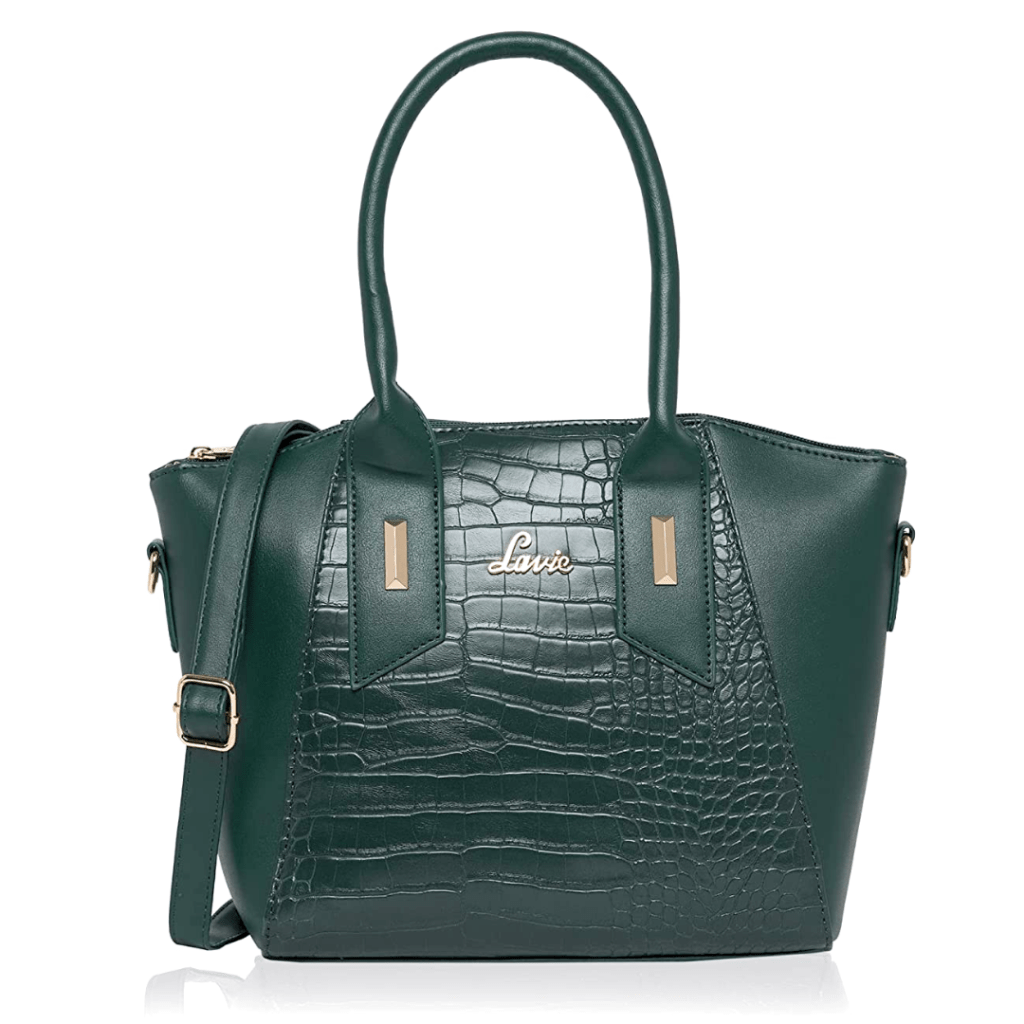 This Tote Handbag From Lavie Features a Premium Glossy Croc Embossed Pattern, Crafted From Exquisitely Faux Leather Followed by Metallic Embellishments Along With Easy to Carry Around Top Handle. For Extra Comfort, It Has a Detachable and Adjustable Sling Bag. It has Spacious main Compartments, Two Inner Zip pockets For a Phone, and Charger as well Stitched Inner Lining for Easy Accessibility and Storage.
Features:
Size- 25LX 9W x 24H cm (Medium)
Premium Croc Texture
Ideal For Casual Occasions
Zip Closure
8. Lavie Quilty Satchel Bag
With its Sleek Design and Premium Saffiano Texture, This Satchel Bag From Lavie is a Perfect Office Bag. it has Top Zip Closure with Safety and Easy Accessibility. Its Interior has Two Compartments with Tablet Sleeves. It has Dual round Handles With Gold-toned Hardware for ease of Carrying Around.
Features:
Size- 31.5L X 12W X 23.5H (Medium)
Ideal for Formal Occasions
Premium Saffiano Texture
Elegant and Spacious
Check out Lavie Handbags Collection | Check on Amazon India
---
About Lavie
Lavie, Started From a Private Family Event in 2009 by Mrs. Shobha Tainwala and it Became a Huge hit at that Event. its Success and Her Friends Admiration encouraged her to Continue Creating handbags, she Started Traveling across the Vibrant landscapes of Europe and Asia to Source the Finest Materials and Design inspiration. The Inspiration and ideas she Collected during her travel from 2010 to 2012 Officially gave Birth to The brand Lavie Establishing Lavie as a World Class Brand. The Word Lavie has been Derived from the Popular French Phrase 'La Vie En Rose' which means Life of pink hues.