Roses have Been used in Skincare Products Since Ancient times. Due to their Anti-inflammatory and Antioxidant Properties, it is Beneficial to add them to the Skincare Products. It Not Only Provides intense Hydration to the skin But its Aromatic Scent Gives a Luxuries Feel. Moreover, it Balances the pH Levels of the Skin and also Helps in Removing Excess Oil. So it is Best to use Products that infuse the Goodness of Roses. Here are the 9 Excellent Smelling Rose Body Washes in India you Should Give a try.
1. The Body Shop British Rose Body wash
The Body Shop British Rose has a Sense Tantalizing Aroma of British Rose. These Roses are Organically Grown and Handpicked which Lets you Experience the Authentic and Refreshing Smell of British Rose. The Body Wash Lathers the skin with a Dewy Scent of Roses while Nourishing the Skin. Moreover, its Elegant Smells Give a Boost to your Feminine Energy.
Pros
Gentle on Skin
Enchanting Smell of Roses
Creamy and lathery
Foamy
The smell of Roses Lasts Long On the Skin
Cons
if you are Buying this Product from India Click Here:
2. WOW Skin Science Rose Body Wash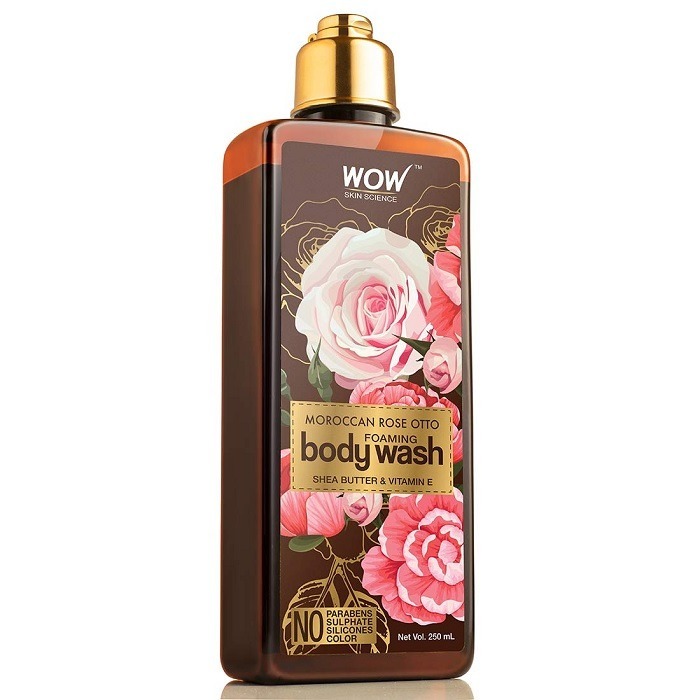 WOW Skin Science Rose Otto Foaming Body Wash will give you a Sense Soothing Spa-Like Experience. it is formulated with Rose otto Essential Oil, Shea Butter, and the Goodness of Vitamin E. The Bodywash Contains Rose which Contains an Antioxidant that is good for the Skin and Eliminates the Signs of Aging. it has Shea Butter that is rich in Fatty acids and Vitamin A that improves the skin's elasticity and helps in reducing inflammation.
The Vitamin E Softens the Skin and Protects from Free Radicals. Moreover, it Also Helps in Reducing the Acne Spot as well as its Rich Moisturizing Formula that Adds Natural Shine to the Skin.
Pros
Leaves Skin Soft and Smooth
Provide intense Hydration
Provides Anti-aging Nourishment
Exotic Floral fragrance
Rich Lathery Formula
Paraben-Free
No-mineral oils
No- Silicones
Cons
Pump Dispenser is Missing
if you are Buying this Product from India Click Here:
3. StBotanica Bulgarian Rose Body Wash
StBotanica Bulgarian Rose Otto Glow Body Wash is infused with the richness of Bulgarian Rose. The Sense Tantalizing Fragrance of the Rose will Give you an Aromatic Blissful Experience. The Premium Conditioning agents Like Roses, Natural Oils, and Plant Extracts Nourish the Skin and Leave it Soft and Radiant. it has Rosehip Oil that has Skin Enhancing Fat, Antioxidant Properties, and Vitamin A and C which helps in Improving the Skin Texture.
it has Aloe vera Extracts that Provide intense Hydration and Glycerin that deeply moisturize the skin. The Antiseptic property of Neem Act as a shield against Microorganism. it Has Macadamia Oil that helps to Delay Skin Aging. Moreover, it has Rosewater that maintains pH Levels and Lightens the Pores as Well.
Pros
Nourishes & Hydrates the skin
Helps Soothe & Calm the skin
No Parabens
Deeply Cleanses the Skin
Removes Dead skin and Grease
No Mineral Oils
No SLS/SLES
Cons
Some may Find the Smell Overpowering
if you are Buying this Product from India Click Here:
4. Forest Essentials Silkening Body Wash Indian Rose Absolute
Forest Essentials Silkening Shower Wash Indian Rose Absolute is a Sulphate Free Luxurious Ayurvedic Product. it is Infused with Premium Natural Ingredients like Neem, and Gokhru that Purifies the Skin, Repairs Dull Dry Skin, and Replenishes its Moisture. it Has Reetha, which Cleanses the Skin. it has aloe vera which is a natural humectant, that deeply hydrates and moisturizes the skin.
it has Extracts of Indian Rose that Diminishes the Fine Line and tones the skin. It has Vitamin E that Preserves the Skin, acts as Shield against UV rays, and Has Anti-Oxidant Properties. The Sensual Fragrances of the Body wash Calms the Senses.
Pros
Hydrates & Nourishes the Skin
Softens the skin
Protects from UV Damage
Revitalizes the Skin
Chemical Free
Cons
Needs a Pump Disperser at this Price Range
if you are Buying this Product from India Click Here:
5. Body Cupid Beautiful Rose Body wash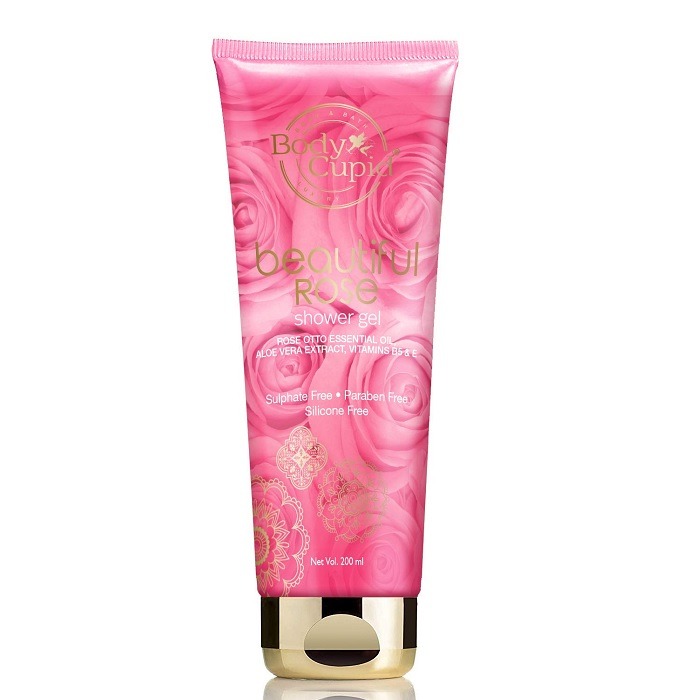 Body Cupid Beautiful Rose Shower Gel is formulated with Nourishing Rose otto essential Oils that Slows Down the Skin Aging Process and Pampers your Senses with its Fragrance. it has Aloe Vera extracts that Intensely Hydrate the skin Keeping it Supple. it has Vitamin B5 and E that Helps in the Reduction of Acne Spot and Enhances Skin Tone.
For a Majestic- Spa Like Treatment, Use this Body Wash Regularly in your Shower It will Not only Restore Moisture But will Keep the Skin soft throughout the day.
Pros
Sense Soothing Aroma
Softens & Hydrates the Skin
Restores Moisture
Rejuvenates the Skin
Cons
Would be Better with a Pump Dispenser
if you are Buying this Product from India Click Here:
6. Just Herbs Organic Rose Body Wash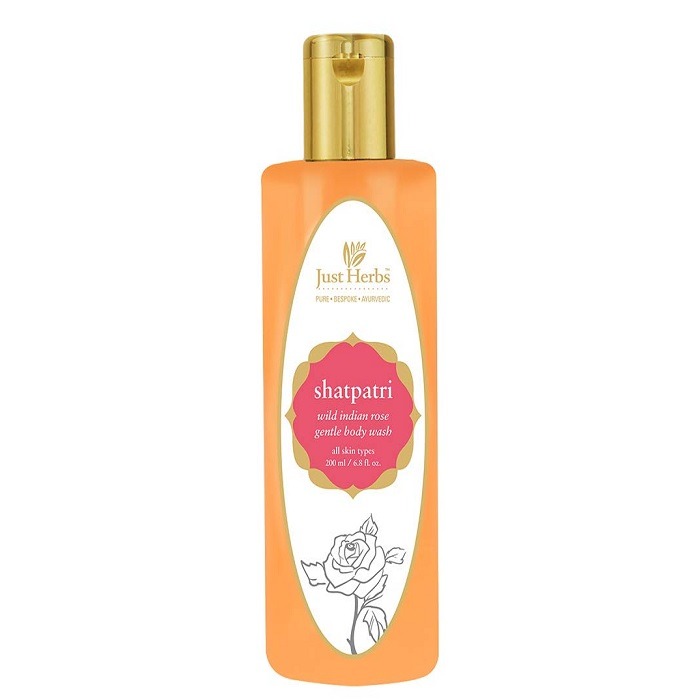 Just Herbs Organic Rose Body Wash is Formulated with a special type of Rose Named 'Shatpatri' which means rose with hundred petals. This product Not Only Nurtures the Skin but also is a Great Emotional stimulant. This Rose is Rich in Vitamin E and C that Provides Moisturization and Helps to Stimulate Collagen in the skin. Moreover, it Removes excess oil from the skin and Treats Redness with its Antioxidant Properties.
it has Aloe Vera, which Heals the dry Skin, treats Acne spots, and fades the Blemishes while Moisturizing the skin. As well as it has Ocimum Sanctum which has Anti-inflammatory and Anti-bacterial properties which fight acne and deeply cleanse the pores.
Pros
Replenish Moisture in the Skin
Deeply Cleanses the Pores
Hydrates the Skin
Lightens Acne Spot & Blemishes
Sense Soothing Smell
Paraben & Sulphate Free
Cons
Packaging Could Have been better
if you are Buying this Product from India Click Here:
7. Layer'r Wottagirl Rose & Vitamin E Body wash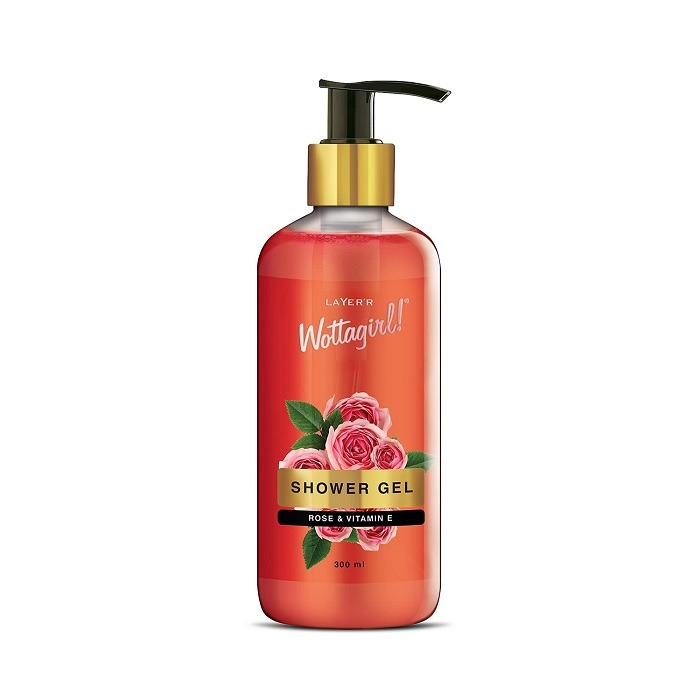 Layer'r Wottagirl Shower Gel Rose & Vitamin E Body wash has the Sophisticated Smell of Roses Which Nourishes the Skin and Acts as a Mind Pacifier. it has Rose Oil that Contains vitamins A, C, D, and E which Helps in Improving the Skin texture by Minimizing Fine Lines and Wrinkles and fights any signs of aging.
It has Vitamin E that acts as a shield against UV rays and Protects from Sun damage. Moreover, it Actively Hydrates the Skin leaving it Supple and Youthful. The Sensuous and Irrirestible Smell of Roses Gives a Luxurious Feeling and Refreshes your Mind, Body, and Soul.
Pros
Protects From Sun damage
Improves Skin Texture
Hydrates the Skin
Refreshing Aroma
Lathers the Skin Perfectly
Cons
There May be an issue With the Pump
if you are Buying this Product from India Click Here:
8. Love Beauty & Planet Moisturising Rose Body Wash
Love Beauty & Planet Moisturising Body Wash has the goodness of Amazonian Murumuru Butter that Provides Nourishment to the skin. it Treats dry Skin by Moisturing all the Layers of the skin. it has an Enchanting Floral Smell of Hand-picked Bulgarian rose that Tantalizes Senses and leaves a long-lasting sweet smell.
Moreover, it has Coconut Oil that Locks in the Moisture and Keeps your Skin soft and Radiant. This Product Gently Cleanses the skin while Maintaining the Skin moisture.
Pros
Ethically sourced rose
leaves dry skin petal-soft
Sweet Fragrance
Provides deep Hydration
Plant-based cleansers
No Paraben
No Sulphate
Cons
Possible issues in the Pump
if you are Buying this Product from India Click Here:
9. Enchanteur Romantic Perfumed Shower Gel
Enchanteur Romantic Perfumed Shower Gel Gives you an opportunity to Experience the Joy of Fine Floral fragrance and oodles of Parisian Charm. it is Infused with the Timeless Fragrance of Sensual Rose that Enhances your Feminine Energy. It has a Sweet and Sensual aroma of White Jasmine that Uplifts the senses and Energises your Body as well as Has the Sweet Fragrance of Vanilla that Soothes the Soul.
it Has Silk Protein that Deeply moisturizes the skin and treats dryness and Gives your skin Long-Lasting Softness.
Pros
Floral & feminine Fragrance
Treats Dryness
Softens the Skin
Enriched with Silk Proteins
Cons
Packaging Could Have Been better
if you are Buying this Product from India Click Here:
Recommended Articles: