BB cream stands for Beauty Balm or Blemish Balm, An ideal Combination of Skincare and Makeup. it is a Versatile Product that is used as a Moisturizer, Sunscreen, Foundation, Primer, and Sometimes as a Concealer. It is an excellent choice for those who Prefer a more Natural-looking Makeup. It is Popular for Covering Minimal skin Imperfections Such As Redness, Spots, Blemishes, etc. Here are the 6 Best BB Creams in India for Instant Glow:
1. POND'S BB+ Cream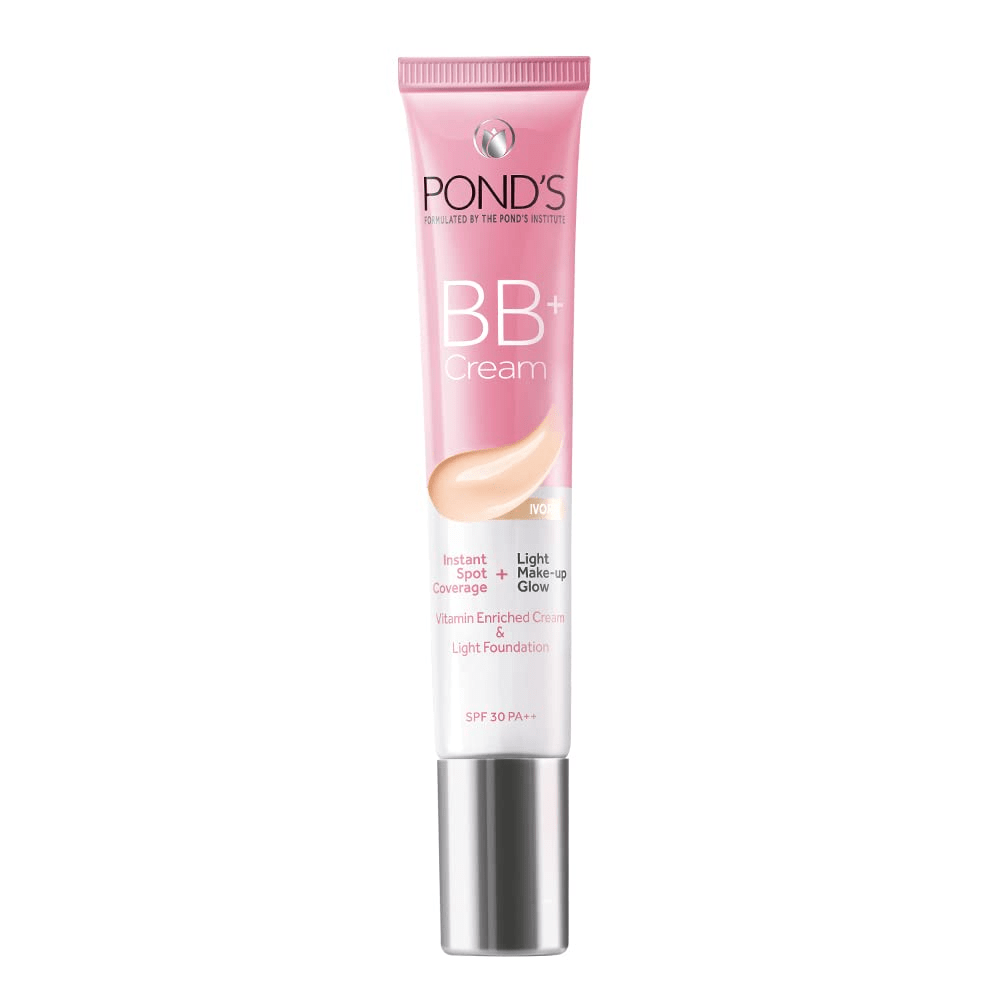 POND'S BB+ Cream is a 2-in-1 Product combining Vitamin Cream and Lightweight Foundation. It is Famous for its Lightweight Formula and Coverage. The Dual benefit of the Product Helps in Instant Spot and dark circle Coverage while giving you an even-toned skin with a Natural finish. Moreover, the Product Minimizes the Size of pores and Gives you a Smooth Look for Further Makeup application.
Highlights:
Enriched with the Goodness of Vitamin B3, Vitamin E
Brightens skin tone and Reduces Dark spots
Non-oily
Doesn't Clog Pores
Lightweight
Provides Sun Protection with SPF of 30 and PA++
2. Lakme 9 to 5 CC Cream
Lakme 9 to 5 CC Cream is an Instant skin stylist ideal for people on the go. It is an Ideal Makeup and Skincare Product perfect for any occasion from Party to Work or Casual Days. it acts as a Shield against Sun Damage with its SPF 30 Protection, along with Providing Makeup Benefits of even Skin tone and spot coverage while Improving the Skin Barrier with the Goodness of Vitamin B3 in it.
Highlight:
Conceals Blemishes
Brightens skin-Tone
Stregthen the Skin Barries
UV Protection
Even Toned Skin
Smooth Coverage
3. SUGAR POP SPF 30 + Bb Cream
Ace the No-makeup Look with SUGAR POP SPF 30 + Bb Cream, Its Lightweight and Blendable Formula gives a Natural Finish while Protecting the skin from the Harmful Radiation of the sun With its SPF30. It moisturizes the skin while Effectively Covering the Trouble Spots and Pigmentations under the Eyes. It delivers a flawless Finish with a Sweat-Free Face.
Highlights:
Lightweight
Long-lasting
Vegan
Cruelty-free
Paraben-Free
Infused with UV Protection, SPF 30
4. Garnier Skin Naturals B.B. Cream
Garnier Skin Naturals B.B. Cream is a Versatile Cosmetic Product, a Combination of Foundation, Moisturiser, and Sunscreen. It is Enriched with Skin Loving Natural Ingredients Such as Almond Extracts that provide long-lasting Moisturization to the Skin. It has Vitamin C, Known for Anti-Oxidant and Skin Brightening Properties. Moreover, it has Mineral Pigments That Provide an Even Skin Tone and Healthy healthy-looking complexion. Furthermore, it has SPF 24 and UVA/UVB filters to protect your skin from the damage caused by the Sun.
Highlights:
all-in-one Beauty Benefit cream​
Enhances skin's glow
Covers Skin Imperfections
Provides Long-Lasting Moisturization
Protects against Sun damage with SPF24 / PA+++
5. Spinz BB Brightening and Beauty Cream
Spinz BB Cream is an All-in-One Daily Cream, Formulated for a Natural and Flawless Look. Its Silky Smooth Formula Covers skin imperfections such as Dark Circles, Redness, and Dark Spot while delivering you a Radiant and Even Toned Look. Moreover, it has SPF 20 PA++ that acts as a Shield against UBA & UVB rays of the Sun. It comes in Three Shades Beige, Amber, and Gold to provide you Natural Glow.
Highlights:
Oil-free Natural Look
Instant Spot Coverage
Even Toned Look
Protect From Sun Damages
Flawless and Smooth Finish
6. Blue Heaven Matte Bb Cream
Blue Heaven Matte Bb Cream is Infused with Antioxidants and Multivitamins such as B3, B5, B6 & E that Nourish the Skin. Its non-oily Formula Acts as a Mattifier and its inbuilt Foundation hides blemishes and Dark spots While Protecting the skin From Harmful UV rays of the Sun with SPF 15 PA+++.
Highlights:
Moisturizes the Skin
Smooth Finish
Covers Skin Imperfections
Sun Protection
Mattifies the skin
Even Toned Look
---
Recommended Articles: