Since Ancient Years Hibiscus Has Been Used for Hair Care. Hibiscus is a Well Renowned Herb that Promotes Hair Growth. Hibiscus along with its Leaves Has Been Used to Cure Hair Fall, Treating Bald Patches, Premature Greying, etc. Hibiscus is Rich in Nutrients, Vitamin A, Vitamin C, Amino acids, and Alpha Hydroxy Acid.
All these Properties Makes Hibiscus an Extremely Beneficial Herb for Hair Care. Let us Discuss all the Benefits Hibiscus has for Hair.
Benefits of Hibiscus For Hair
1. Hibiscus is rich in Nutrients and Vitamins That Promotes Healthy Hair Growth
Hibiscus is rich in Amino Acids that are Essential Nutrients for Hair Growth. The Amino Acids in Hibiscus Produces a Structural Protein Called Keratin. Keratin is responsible for Building blocks of Hair. Keratin Strengthens the Structure of Hair and Makes them Less Prone to Breakage. Vitamin and Nutrients in Hibiscus Makes Hair Thicker, Shiner, and More Manageable.
2. Prevents Premature Greying of Hair
Hibiscus Prevents Premature Greying of Hair as it acts as a natural dye and Covers Grey Hair. it Contains Antioxidants and Vitamins that Help in the Production of Melanin, a Pigment that is Responsible for the Natural Color of hair.
3. Hibiscus Fights against Hair Fall and Balds Patches
Various researches on Hibiscus have Found that Hibiscus is Effective in Treating Baldness. Hibiscus is as Effective as these drugs Minoxidil and Finasteride that are used for Treating Baldness. There is no Harmful Effect of Using Hibiscus Regularly for Treatment of Baldness. Moreover, By Strengthening the Roots and Strands of Hair, Hibiscus improves the Hair Structure.
4. Hibiscus act as Natural Hair Conditioner
Hibiscus Flowers and Leaves Contain Mucilage that is Rich in Hair Conditioning Property. Hibiscus Seals in Natural Moisture and Nourishes the Hairs. Regular Usage of Hibiscus Repairs the Dullness of Hair and Makes them Silky and Soft.
5. Eliminates Dandruff and Treats Itchy Scalp
Due to the Excessive Secretion of Oil in the scalp, it Becomes Dirty and Itchy which leads to Dandruff. Hibiscus Act as Astringent and Control the Production of Excessive Oils. its Leaves Has a Cooling effect that Soothes the Scalp by Maintaining the pH level.
Ways to Use Hibiscus For Hair Care:
Hibiscus and Hibiscus Leaves both Have Multiple Benefits and are used in Various Ways For Treating Hair Issues. Let's Discuss Comfortable Ways of adding it to your Life.
1. Hibiscus Hair Oil
Use Hibiscus Oil 2 to 3 Times in a Week for Rejuvenating the Scalp. it Also increases Blood Circulation and Promotes Hair Growth.
Process:
Take Handful Leaves and Flowers Grid Them Into Fine Paste.
Heat a Cup of Coconut Oil in Medium Flame ( Remember Do not Pour the Paste in Extremely Hot oil It may Burn the Paste) Let it Infuse in it Slowly.
Afterward, Let it Cool, and then it is Ready to Use.
Massage this Oil in the Roots of your hair for 5 to 10 mins with your Fingertips in Circular Motion.
Let it Sit on your Hair for Half an Hour then Rinse it With a Mild Shampoo.
TIP– Never Apply Hot oil Always to your Hair it weakens the Roots.
2. Hibiscus Shampoo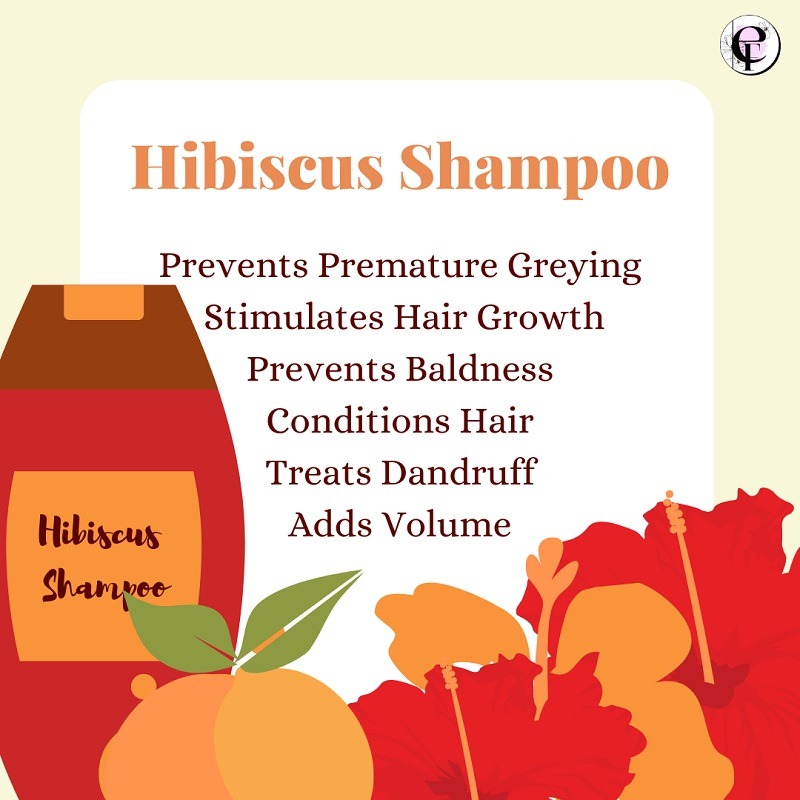 Due to the Lather Property of Hibiscus and its Leaves, it Becomes a Great Hair Cleanser. Washing Hair With Hibiscus Shampoo Soften the Hair Structure without ripping it off the Scalp.
Process:
Take About 15 to 20 Leaves of Hibiscus and 10 to 15 Hibiscus Flower.
Now Grind them into Fine Paste.
Apply it to your Hair for 1 Hour and Rinse with Lukewarm Water
And if you have Dandruff Squeez a Lemon to the Paste.
3. Hibiscus Hair Mask
Hibiscus Hair Mask is a Great way of Conditioning, Nourishing, and Strengthening Hair. There are Numerous Ways of Making it.
1. Hibiscus and Yogurt Hair Mask
it is ideal for Strengthening of Hair. This Mask Will Strengthen the Roots and will Prevent Premature Greying of Hair.

To Prepare the Mask, Grind Few Flowers and Some Leaves with a Cup of Yogurt and Make a Smooth Paste.
Apply this Mask to your Hair and Let it Sit for an Hour.
Rinse it Off with a Mild Shampoo in Lukewarm Water.
2. Hibiscus and Amla Hair Mask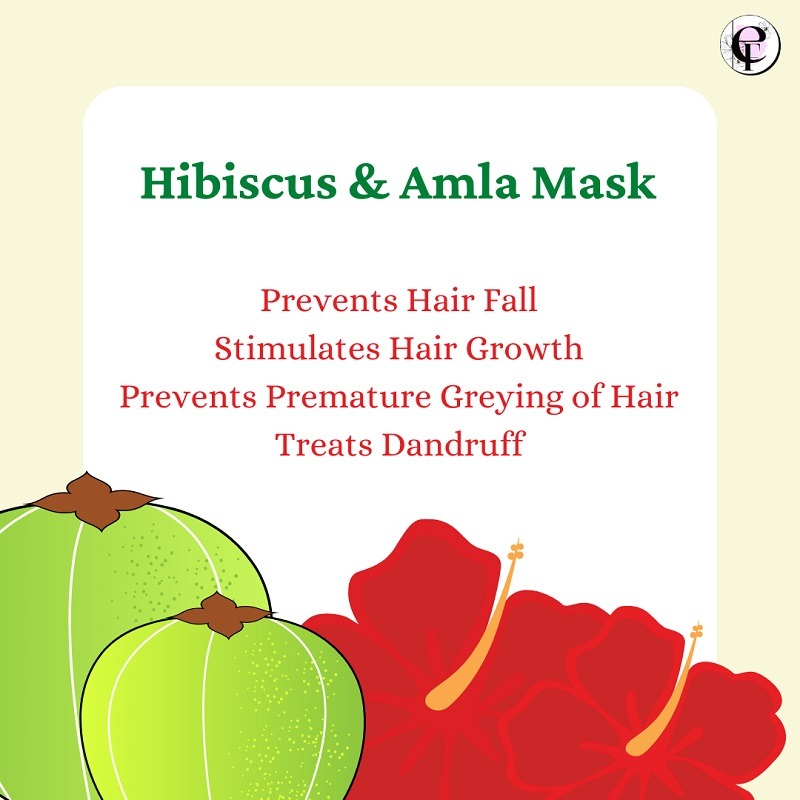 it is a Perfect Solution For Hair Loss. Applying this Mask will Promote Hair Growth.

To Prepare This Mask, Mix Equal Quantities of Amla Powder and Hibiscus Powder in Water and Make a Fine Paste.
Apply it To Roots and Hair.
Let it Sit till 30 to 40 Mins then Rinse it Off with Mild Shampoo.
3. Hibiscus and Curry Leaves Mask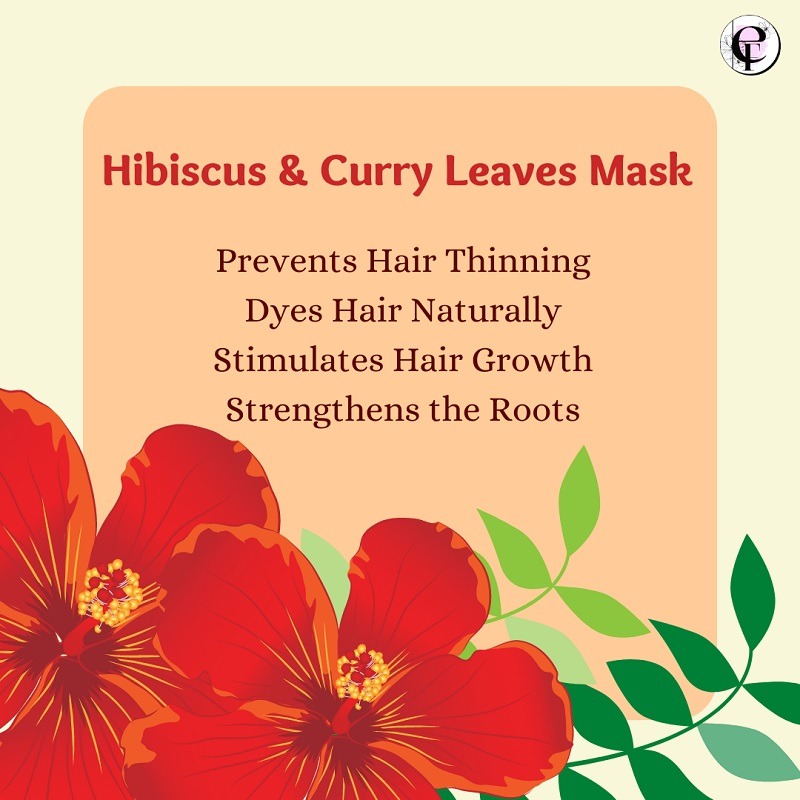 it is a Perfect Solution for Hair Thinning. Combining Hibiscus Leaves and Curry Leaves Together is Effective on Maintaining Healthy Scalp.

To Prepare This Mask, Grind Curry Leaves and Hibiscus Leaves Together and Obtain Its Juice.
Apply this Juice to your Scalp For 20 Minutes. After that Wash it with Lukewarm Water.
Apply this Mask twice a Week to Maintain a Healthy Scalp.
4. Hibiscus, Onion, and Ginger Mask
It will Increase the Thickness of your Hair and your Hair will Be Volumeness and Healthy.

To Prepare this Mask, Grind Onion, Ginger, and Hibiscus with water and Make a Paste then Strain its Juice.
Start applying the Juice to your Scalp, You Can fill it in a Spray bottle and Spray it in the Roots.
Leave it for 15 to 20 Mins and Wash it with Mild Shampoo or Lukewarm water.
5. Hibiscus and Heena Hair Mask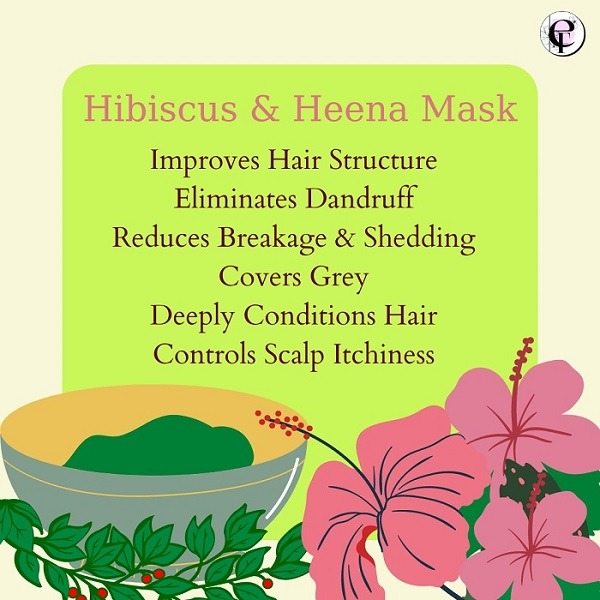 it will Not Only Balance the pH of the Hair But also Control the Excessive Oil Build up and will Prevent Dandruff.

To Prepare the Mask, Grind Hibiscus Leaves and Flower with Heena Powder and Make a paste
Squeeze Lemon into the Paste and apply it Gently to your Scalp.
Keep it For 45 min and then Wash with Mild Cleanser.
6. Hibiscus and Coconut Milk Mask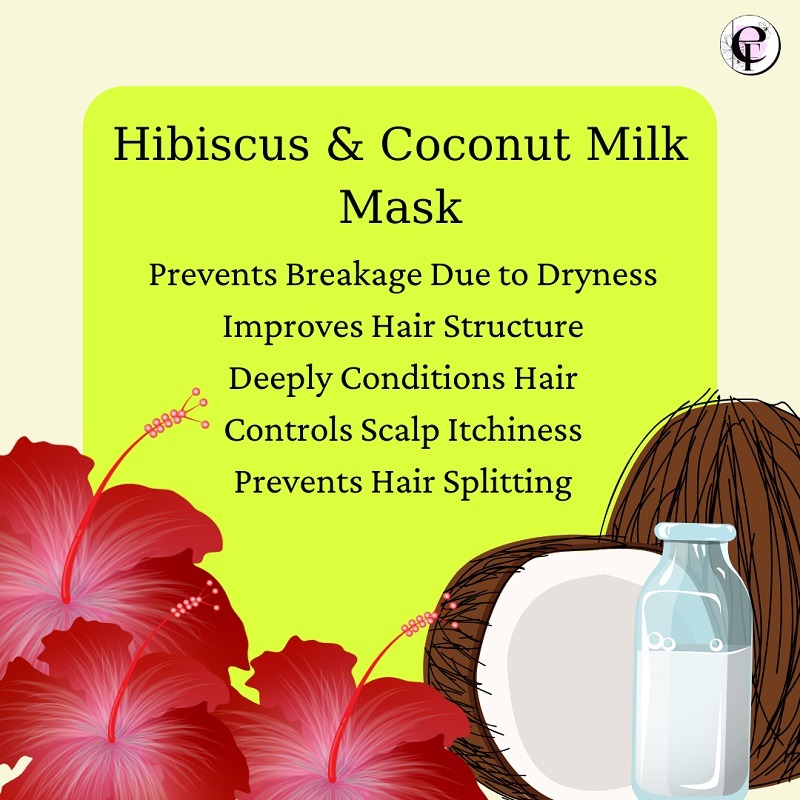 it is the Best Cure For Dry, Dull, and Split Ends. Coconut Milk Has Healing Properties that Can Heal Dry Hairs. It Helps in Moisturing the Hair Strands and Makes them Softer and Healthier By Conditioning Them.

To Prepare the Mask, Add Hibiscus Paste to Coconut Milk along with Aloe vera and Yogurt and Blend It Well.
Apply this Mask to your Hair and Leave it For 30 Mins.
Rinse it With a Mild Cleanser. Use this Mask Twice a Week For Best Results.
Conclusion:
Hibiscus is an Effective Ingredient to solve Hair Related Issues without Causing Any Harm and Side effect. you Must add this Amazing Plant to your Haircare Regimen. It Has the Ability to Cure Hair Loss and Promote Hair Growth. Let us Know How Did it Changed your Life in the Comments Section.