Apple Cider Vinegar (ACV) Has Numerous Health Benefits From Skin to Hairs. if you are Skin Care Enthusiast then you must Try Out these Apple Cider Vinegar Face Washes, It Helps in the Tightening of the Skin. Maintaining the pH Level, Cleaning out Clogged Pores, and Eliminating Dark Spot, Blemishes, and Dead Skin Cell. It Helps in Providing Natural Looking Healthier Skin.
Here We Have Picked 5 Best Apple Cider Vinegar Face Wash You Must Give a Try.
1. WOW Skin Science Apple Cider Vinegar Foaming Face Wash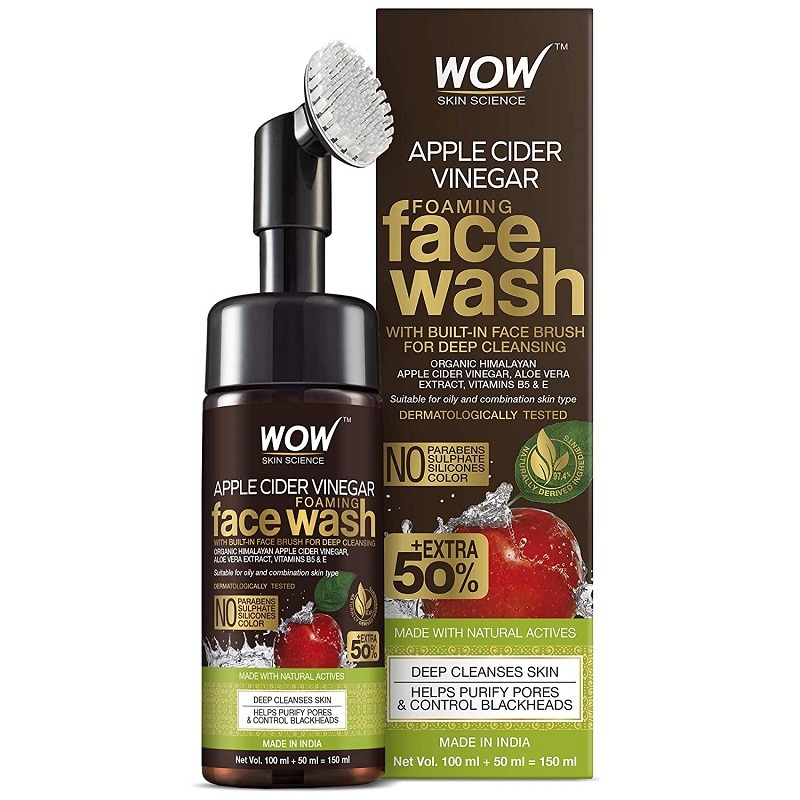 WOW, Skin Science Apple Cider Vinegar Foaming Face Wash is enriched with Bio-Actives that are Beneficial for your Skin. It Contains Vitamin B5 and E that Deeply Cleanses and Nourishes Skin. These Vitamins Heals Damaged Skin, and Reduces Dark Spot, Inflammation, Acne Scars and Blemishes Moreover, Prevents Further Breakout. The Formula Also Contains Aloe vera Extracts that Intensely Hydrates your Skin and Leave it Feeling Slushy and Gentle.
It Has an Apple Cider Vinegar that Balances the pH Level of the skin as well as Helps in Maintaining the Skin Tone by Acting as a Natural Astringent. It Cleans your Pores and eliminates Acne- Causing Bacteria. ACV in it Helps in Removing Dirt, and Dead Skin Cell and Provide Natural-Looking Healthy Skin. This Face Wash has a Built-in Brush that Gently Massages your Skin and Leaves it Radiant.
Pros
Hydrating & Ideal For Daily use
Paraben-Free
Sulphate- Silicon Free
Doesn't Dry Out Skin
Prodives Natural Glow
Cons
Not Suitable for Sensitive Skin
2. Mamaearth Apple Cider Vinegar Foaming Face Wash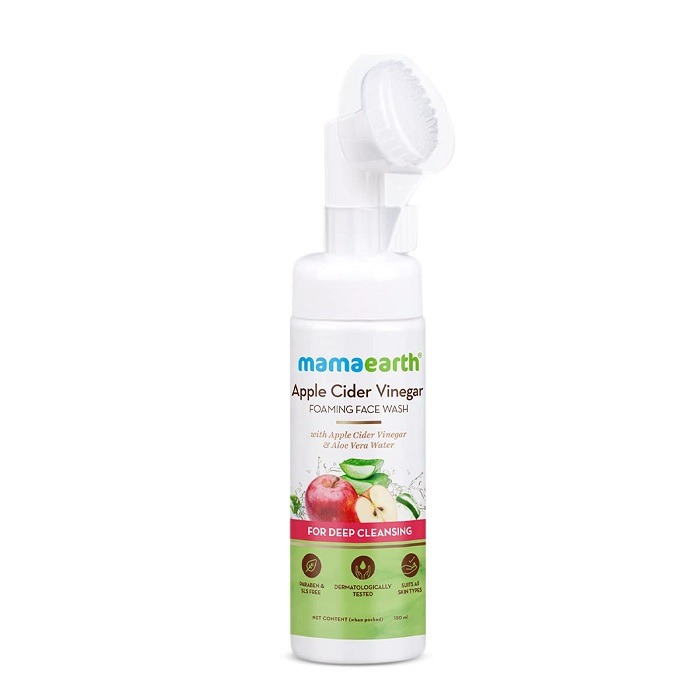 Mamaearth Apple Cider Vinegar Foaming Face Wash Gently Exfoliates your Skin to Remove Dirt, Pollution, and Excess Oil on Your Face. The Combination of the Ingredients Maintains the pH level of the Skin and Exterminate the impurities. it Has the Goodness of Cucumber, Aloe vera Water, and Apple Cider Vinegar.
The Cucumber has High Water Content and Antioxidants that Hydrates the Skin, Improves Elasticity, and Treats Large Pores. it Has Aloe vera Water that Prevents Drying out of the Skin and is Packed with Vitamin A and Vitamin C that Rehydrates the Skin and Gets you Clean Skin. The Apple Cider Vinegar in it Improves and Strengthen the Structure of your Skin By Cleaning Clogged Pores which is Beneficial For Improving the Appearance of the Skin.
Pros
Dermatologically Tested
Paraben-free
Petroleum Free
No- Sulphate
No- Added Color
Sulphate- Free
No Mineral Oil
No Toxins
Cons
3. Biotique Apple Cider Vinegar Deep Cleansing Face Wash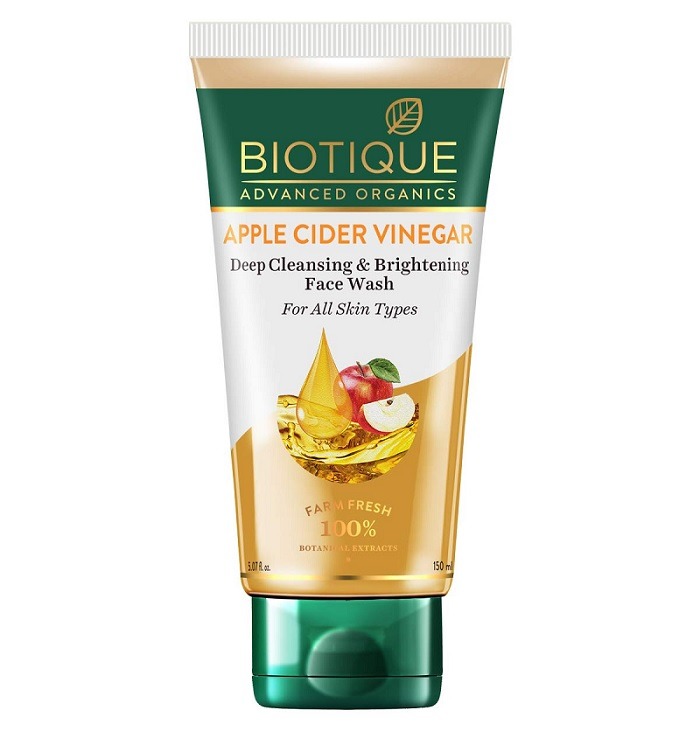 Biotique Apple Cider Vinegar Deep Cleansing Face Wash is Formulated with 100% Pure Organic Botanical Extract. This Product is Ideal for Correcting Blemishes By Healing the Skin with its Anti-inflammatory and Anti-Septic Properties. This Pure ACV Face Wash Helps in Maintaining the pH level and Brightening of Skin. This Face Wash Protects skin from becoming Excessively Oily Or Dry, Which Prevents Acne and Pimple Breakout.
The ACV in it Cleanses your Pores, eliminates Dark spots, and Reduces Blemishes. This Facewash Not Only Cleanses the Skin But Also Restore The Moisture of your Skin. Regular Use of the Facewash will Also Remove Any dead Skin Cells.
Pros
Helps in Increasing Collagen Production
100% Natural
Vegan
Refreshing Fragrance
Provides Smoother & Glowing Skin
Cons
4. Good Vibes Apple Cider Vinegar Foaming Face Wash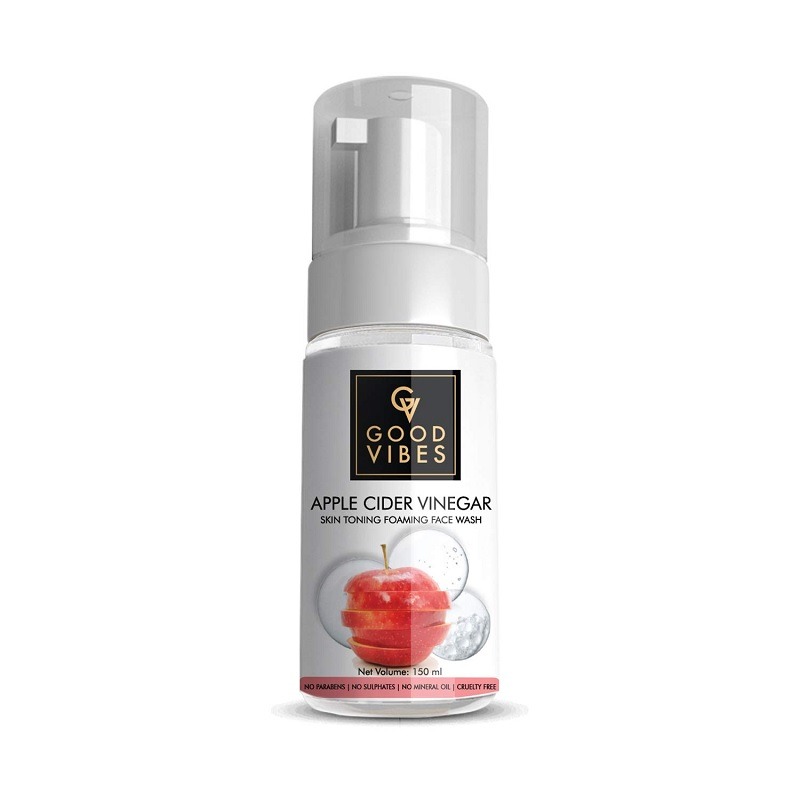 Good Vibes Apple Cider Vinegar Foaming Face Wash Deeply Cleanses the Skin While Keeping it Hydrated and Moisturized. Its Detoxifying Formula Gently Buffs Away Dead Skin Cell and Effectively Slough Offs Makeup and Excessive Oil from the Skin. It is rich in Vitamin A that Treats Premature Signs of aging and Dark Spot. It Not Only Soothes Out Fine line and Wrinkles But Also Imparts Detoxified Healthy Looking Skin.
This Face wash also Helps in Tightening and Firming skin and also Rejuvenates the Skin By Keeping the Pores Clean and Unclogged. Moreover, It Effectively Cleans your Skin By Also Killing Acne Causing Germs.
Pros
Detoxifes & Hydrates Skin
Evens Out Skin Tone
Paraben-Free
Sulphate-Free
Cruelty-Free
Cons
5. Morpheme Remedies Organic Apple Cider Vinegar Face Wash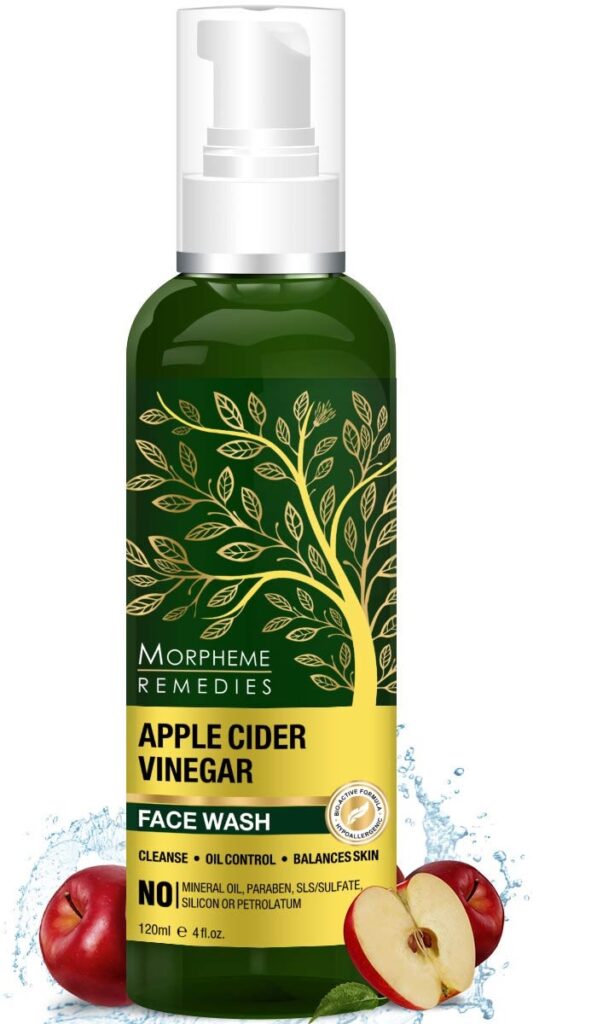 Morpheme Remedies Organic Apple Cider Vinegar Face Wash contains the Goodness of Apple Cider Vinegar that Detoxifies the Skin by Removing Toxins and Excess Oil From Your Face While Maintaining the pH level of the Skin. It Has the Unique Combination of Shea Butter & Rose Water that Helps in Soothing the Skin Cell and Provides Healthier Looking Skin.
It Has Vitamin E that Enhances the Glow of the Skin and Conditions the Skin, Leaving it Soft and Smooth. The Aloe Vera Extracts Deeply Penetrates the Skin and Treats Dark Spot, Sun Burn, and Brightens the Dull-Looking Skin.
Pros
Provides Supple & Soft Looking Skin
Gets you Natural Looking Skin
Paraben-Free
Sulphate-Free
Mineral-Oil
Cruelty-Free
Cons
Not Suitable For Sensitive Skin
---
Recommended Article: