Winters are approaching, which can be particularly harsh on the skin, leading to dryness and irritation, due to lower temperatures, wind, and lower humidity levels. so to protect the skin from winter conditions one should often use a Body lotion that includes ingredients that provide deep hydration and help to lock in moisture in the skin. Here are the 10 Best Body lotions in India that will provide long-lasting Moisturization to the skin.
1. NIVEA Nourishing Body Milk
NIVEA Nourishing Body Milk is a Complete Body care Lotion that transforms your Dry Skin with its Nourishing body milk. its 5 in 1 care Includes 48 hr of Deep Moisturization, Protection Against Dry-Out, Smooth Skin, Non-greasy Formula, and Healthy-looking skin. it is Enriched with a combination of caring ingredients Such as NIVEA's Deep Moisture Serum, Almond oil, and Vitamin E that heal and nourish dry skin Making it Soft and Supple throughout the Day.
Highlights:
Key Ingredients: Moisture serum | Almond Oil | Vitamin E
ideal for Dry to Very Dry Skin
Heals Dryness and Smoothens Skin
Non-Greasy
48 hours of Moisturisation
2. Parachute Advansed Body Lotion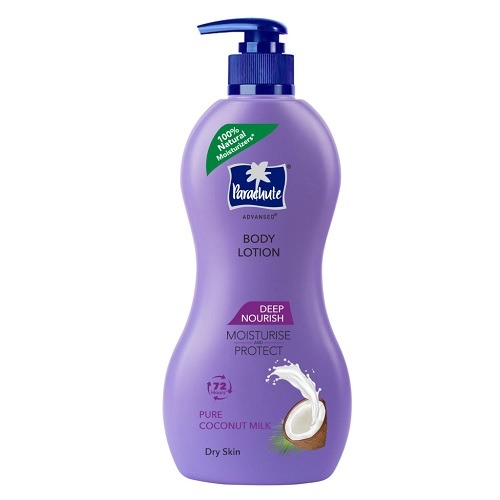 Parachute Advansed Deep Nourish Body Lotion Works best on Rough and Dry skin. it is enriched with Pure Coconut Milk that keeps the skin hydrated for 72 hours. its unique Cocolipid Formula goes 10 layers deep in the skin, boosting its Natural glow and Nourishing the skin from the inside. Its non-sticky and Fast Absorbing Formula locks in the Moisture and Prevents Moisture Loss. This Gentle Lotion is Especially Formulated for Indian Skin and is Free of Mineral Oil, silicones, sulfates, and phthalates.
Highlight:
Key Ingredients: Pure Coconut Milk
ideal for dry Skin
Boosts Natural Glow
Quick Absorbing
Penetrates 10 layers of skin
Prevents moisture loss
3. Vaseline Intensive Care Body Lotion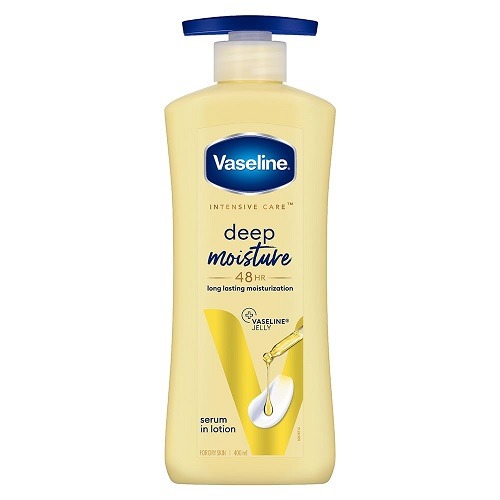 Vaseline Intensive Care Body Lotion is made of a Unique double-action formula that contains Glycerin which helps to Replenish skin's lost Moisture, and Vaseline Jelly which locks the moisture. It Penetrates 5 Layers of Skin, Deeply Moisturises it, and protects it from damage such as Environmental factors like Extreme temperatures, Low humidity, Harsh cleansers, and Hot water which dry out your Skin. It provides 48 hr of Deep Moisturisation without making your skin feel Sticky and gives you soft, Smooth skin all day long.
Highlight:
Key Ingredients: Glycerin | Vaseline Jelly
ideal for Dry skin
Protects from Environmental Factors
Provides 48 hours of Moisturisation
Non-Sticky
Smoothens Skin
4. Himalaya Cocoa Butter Body Lotion
Himalaya Cocoa Butter Body Lotion gives buttery soft skin with its Magical Herbal ingredient Cocoa Butter that Softens and Intensely Moisturises the Skin. Its cocoa butter helps dull skin look fresh and healthy while the Antioxidant Properties repair damaged skin, Promote healing, and prevent drying out. Moreover, it is a high-quality emollient that prevents skin from cracking and making it supple. Furthermore, it Possesses Anti-ageing properties that promote healthy and younger-looking skin. Also, it has wheat germ that is rich in Vitamin E and Prevents Moisture loss.
Highlights:
Key ingredients: Cocoa Butter | Wheat Germ Oil
Ideal for Dry skin
Repairs dry Skin
Hydra-Nutri balanced (locks natural moisture and provides essential hydration)
Softens Skin texture
5. Boroplus Body Lotion
BoroPlus Doodh Kesar Body Lotion is Enriched with the Goodness of Natural ingredients Such as Doodh which is loaded with Vitamin E that Nourishes and Softens dry Skin. It has Pure Kashmiri Kesar which provides Natural Radiance to the Skin. It penetrates the skin up to 20 layers to help Heal dryness from deep within making the Skin healthy, glowing, soft, and smooth. Moreover, it Protects your Skin from germs, viruses, Dust, and Harsh weather conditions which makes skin Dry, dull, itchy, flaky, and undernourished.
Highlights:
Key Ingredients: Milk | Pure Kashmiri Kesar
Treats 8 Signs of Skin Aging
Goes deep to 20 layers of Skin
24 hours of Moisturisation
Provides healthy Glowing
6. WOW Shea Butter Body Lotion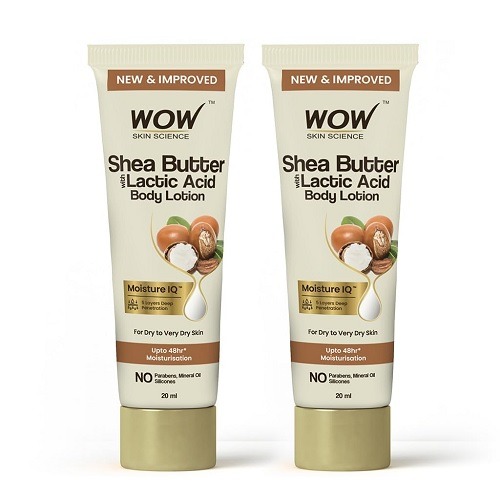 WOW Skin Science Shea and Cocoa Butter Body Lotion is India's first Body lotion with Moisture IQ technology that penetrates 5 layers of Skin which lets the Actives go deep into the epidermis and Provides rich nourishment. it is a Superlative moisturizer that deeply moisturizes and hydrates the Thirsty and parched Skin. it has Shea Butter which is rich in Omega 3 Fatty acids that soothe dry skin and Nourishes it. it has lactic acid that prevents Moisture Loss and improves the Moisture barrier. Moreover, it has skin-soothing Actives like Ghee, shea butter, cocoa butter, Honey, and lactic Acid. These Activated naturals protect the skin's lipid barrier and soothe, condition, and soften skin while eliminating Dry skin conditions like itchiness, roughness, and flaky skin.
Highlights:
Key Ingredients: Shea butter | Cocoa Butter | Ghee | Honey | Lactic acid
Ideal for Dry to Very Dry skin
No Parabens and Mineral Oils
Treats Dryness, roughness, and Flaky skin
48 hours of Moisturisation
Penetrates 5 Layers of skin
7. Dove Body Love Body Lotion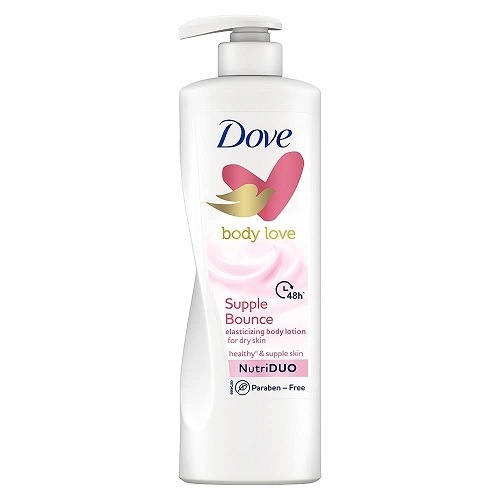 Dove Body Love Body Lotion is a Plant-based, elasticizing Moisturizer that is enriched with a unique Nutri duo, Paraben Free Formula that Penetrates 10 layers of skin to nourish it from Within. it is a Paraben-free Lotion that is Gentle on the skin. This is dermatologically tested and has a Unique Formulation that Gives 48 hours of long-lasting moisturization. The Lotion absorbs quickly in the skin and makes you Experience the Goodness of Dove and the unconditional love that your Skin deserves.
Highlights:
Penetrates 10 layers of Skin
up to 48 hours of Moisturisation
Gentle on Skin
Ideal for Healthy and supple Skin
Enriched With Nutri Duo that gives Irresistibly bouncy skin
Absorbs quickly
8. POND'S Niacinamide Nourishing Body Lotion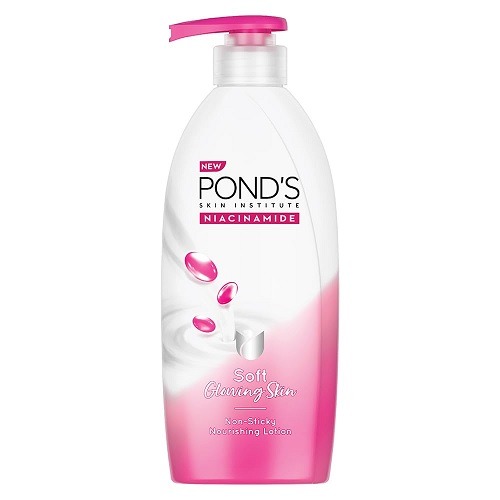 POND'S Niacinamide Nourishing Body Lotion is infused with Niacinamide that Goes 10 layers deep in the skin and improves the Texture of the skin, making it Soft and Smooth, giving you a Radiant glow within. it contains Triple vitamins that not only improve the elasticity of the skin but also protect your skin from Free Radicals. Also, improves the Complexion of the skin and makes it look youthful. Additionally, These vitamins help boost collagen and Keep skin Soft, supple, and Firm.
Highlights:
Key Ingredients: Niacinamide | Triple vitamins
Improves elasticity and Texture of skin
Protects from free radical
Boosts collagen
Keeps skin soft and Supple
9. Biotique Winter Cherry Body Lotion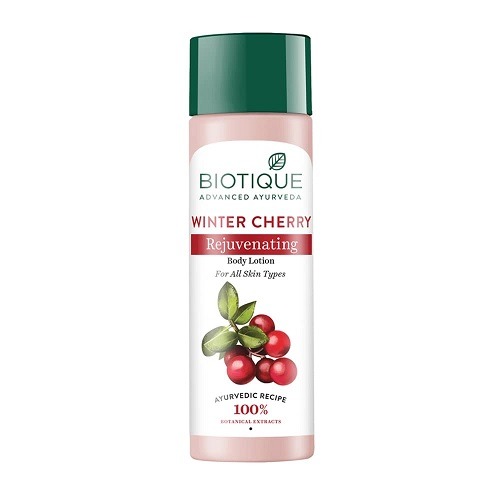 Biotique Winter Cherry Rejuvenating Body Lotion is infused with 100% Botanical extracts such as winter cherry which is enriched with Antioxidants and anti-aging properties that help fight Signs of Aging like Fine lines, Blemishes, Aging spots, and wrinkles. it has Ashwagandha that boosts telomerase activity, which extends the life span of skin cells. it delays aging by preventing telomerase loss as well as eliminates signs of aging. It has sesame that keeps skin warm and Moist making it Glow from within. it is rich in anti-inflammatory properties that heal facial skin issues by getting rid of pathogens.
Highlights:
Key Ingredients: Winter Cherry | Ashwagandha | Seasme
fights Signs of Aging
Extends life of Skin cells
Heal's redness and Facial issues
For dry Skin
10. VLCC Almond and Honey Body Lotion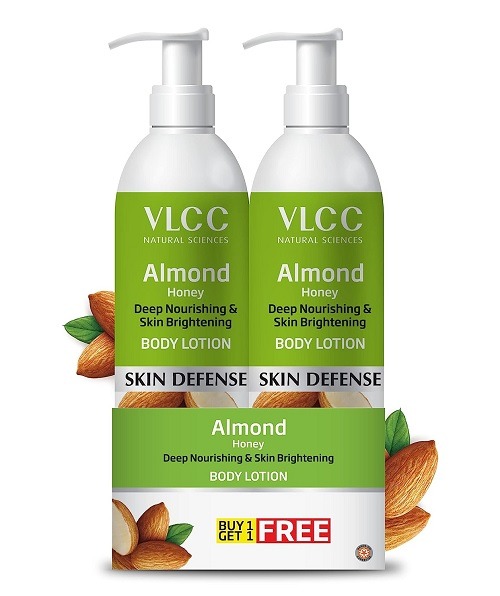 VLCC Almond and Honey Body Lotion contain Natural extracts such as Almond Oil, Aloe vera, Wheat germ, and fenugreek that Deeply Nourishes your Skin while Protecting it. it acts as a Shield against Sun damage such as Harmful UVA and UVB Rays. it is a Lightweight and Non-oily Lotion that makes your skin soft and Supple. This Hydrating Ayurvedic Lotion Goes deep into the skin and Fortify cells and Protects the skin from Dryness and sun exposure.
Highlights:
Key Ingredients: Almond Oils | Aloe vera | Wheat Germ | Fenugreek
Protects from UVA and UVB rays
lightweight and Non-Oily
Hydrating and moisturising
Heals Dryness and Protects from Sun Damages
---