During the winters we Need to take care of our Skin Even More than usual, as the season Steals the Moisture from the skin and Makes it Dry and Itchy. That's why it is essential to Protect Skin in Harsh Weather as Mistreating Skin Can Further Cause Eczema, Psoriasis, and Skin Infections. So The Best Way to Treat Extreme Dry Skin is By applying Body Butter Regularly. Unlike Body Lotion, Body Butters Have Thick Consistency and whipped Structure that can effectively provide Long -Lasting Hydration to Skin, But It May feel Heavy on Skin During Hot and Humid Weather So The Best Season to use Body Butters is the Winter.
And Natural Body Butters Can be even More Beneficial as it Contains Nut Nutrients, Emollients, Herbs, Essential Oils, Floral Scents, and Humectants that Locks in the Moisture, Hydrates, Nourishes and Improve Skin structure.
So. Here I Have Listed the Top 5 Best Natural Body Butters to choose
1. Forest Essentials Indian Rose Absolute Velvet Silk Body Butter
This Velvet Silk Body Butter Contains, Shea Butter which Provides Protection against Environmental and Sun Damages, and Secondly, It's Vitamin F, Soothes rough and dry skin.
The Wheat Germ Oil Repairs damaged Skin cells and Improve Blood Circulation, and Sweet almond Oil Provides Deep Nourishment and Moisturizes Skin.
Additionally, it Contains a Floral Fragrance of Rose essential Oil which Has a Calming and harmonious effect on the senses.
Pros
Intensely Hydrating
Chemical and Petrochemical Free
Paraben- Free
Improves Skin Elasticity
Stimulates the Regeneration of Skin Cells
Cons
If you are Buying this Product From India: Click Here
If you Are Buying This Product From Outside India: Click Here
2. Just Herbs Mace-Moringa Rejuvenating Body Butter
This Rejuvenating Body Butter Contains Moringa tree Oil Extracts which has Antioxidants and Skin- Friendly Properties, Enriched with Omega 3 & 6 and Fatty Acid That Fights Ageing and Moisturizes the skin
The Aloe Hydrates and Deeply Cleanse the Skin as well as the wheatgerm repairs Tissue damage, Reduces Scars and Provides even skin tone.
Pros
Reduces Scars
Helps in dry Out Acne and Pimple
Rejuvenates the Skin
Hydrates and Deeply Moisturizes
Provides Even Skin Tone
Cons
If you are Buying this Product From India: Click Here
3. Pilgrim Shea & Cocoa Body Butter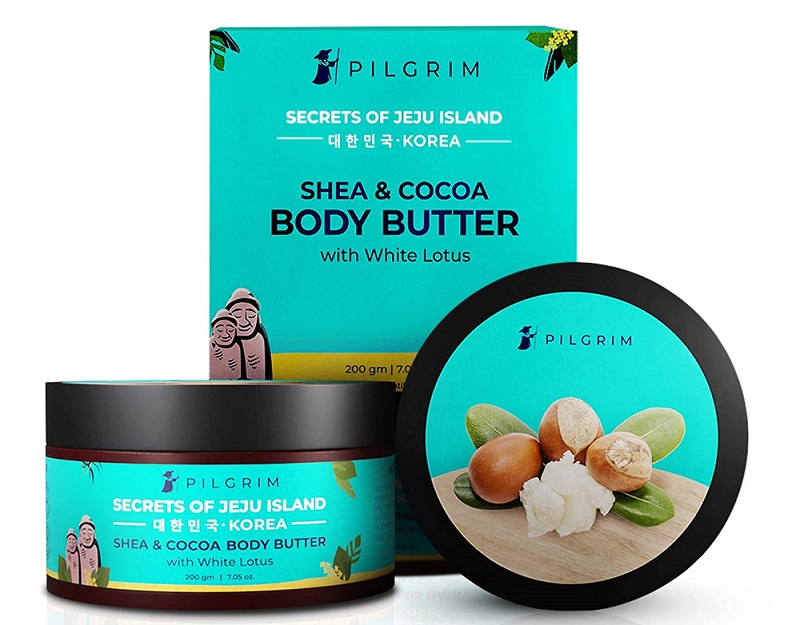 Pilgrim Shea & Cocoa Body Butter is one of the Best K-Beauty Products. it Contains Shea and Cocoa Butter which is Enriched with Antioxidants and Vitamins that treats Rough and Dry Skin effectively.
It has white Lotus extracts that Provide Deep Moisturization to Soften the skin. This Body Butter Melts into the Skin, Locks in the Moisture, and Improves Skin elasticity.
Besides, it Can treat and heal Stretch Marks Caused due to Weight In fluctuation or Pregnancy.
Pros
Enhances Natural Radiance
Improves Skin Elasticity
Heals Stretch Marks
Provides Deep Nourishment
Paraben-Free
Cruelty-Free
No Sulphate and Mineral Oils
Cons
If you are Buying this Product From India: Click Here
4. The Body Shop British Rose Body Butter
The Body Shop British Rose Body Butter has the essence of Expensive British Rose. it is the Best product if you are a Fan of Roses as its Fragrance is Very Calming and Fills the Senses with its Tantalizing Scent.
This Velvety-soft Sparkling Moisturizer is Very Light and gentle on the skin. its application Provides Dewy Hydration and Instant glow to the Skin.
It is Non- Sticky and Suitable for Normal to Dry Skin Type.
Pros
Provides Deep Hydration to Skin
Suitable for All Skin Types
Refreshing and Calming Scent
Provides Healthy Glow
Improves Skin Structure
Thick consistency
Perfect for Winters
Cons
May Feel Greasy During Summers
If you are Buying this Product From India: Click Here
If you Are Buying This Product From Outside India: Click Here
5. Khadi Essentials Moroccan Argan Oil Body Butter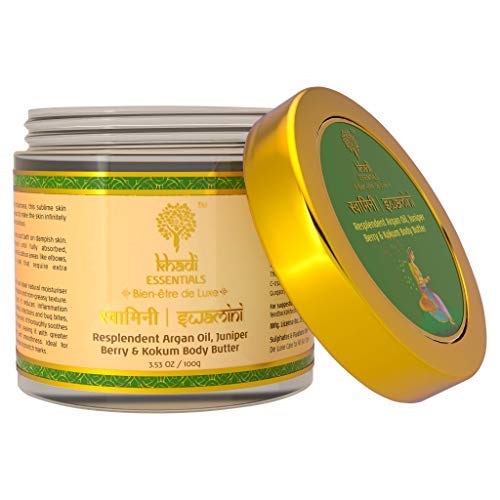 The Key Ingredient of This Product is the Premium Moroccan Argan Oil and it is Also Enriched with Goodness of Jojoba Oil, Juniper Berries, Kokum, and Rose Petals.
Argan oil is Useful in anti-aging Treatment and also Prevents Skin infection caused Due by Bacteria and Fungal Skin Infection. The juniper Berries Act as Natural Antiseptic and Help to Smooth the Skin.
Kokum in it is the Rich Source of Nourishment and Provides Deep Hydration to the Skin. it Can effectively Treat sunburn, Insect bites, and Allegories.
Besides, Rose is a Skin Purifier, Toner, and Natural Cleanser. The Natural sugar in Rose Petals Provides a soothing effect on the skin.
its jojoba Oil has Anti-Inflammatory and Anti-oxidant Properties. it has Vitamin E that Beautifies the Skin, Locks in the Moisture and Protects the Skin by Forming a Layer.
Pros
Improves Skin structure
Deeply Hydrates the Skin
Provides Nourishment
Heals sun Damage
Reduces Oil Over Skin
Therapeutic Aroma
Cons
If you are Buying this Product From India: Click Here
---
#If you have used any of these Body Butters, Please Comment Below and share your Experience. I Highly Appreciate your Feedback and Views.
Recommended Articles: