Tatcha Indigo Overnight Repair Cream is a Fragrance-free and Lightweight Serum-in-Moisturizer that Improves the Texture of the Skin by Eliminating the Signs of Aging while keeping the Skin Hydrated and Moisturized let us Take a Closer look at all the Benefits it Provides to your Skin:
---
All the Products Featured on Our Website are independently selected by the Editors, however, if you purchase from our Affiliate Link we May Earn Some Commission
Tatcha Indigo Overnight Repair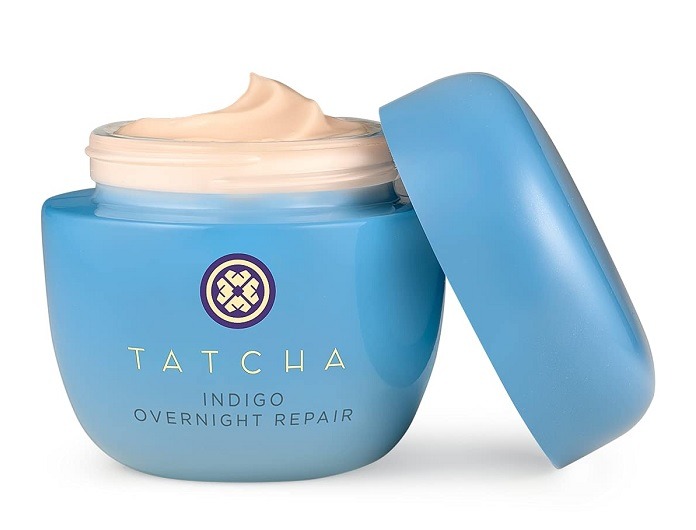 Tatcha Indigo Overnight Repair is specially formulated to Treat the Damage Caused by Pollution and Environmental Stress. From Soothing the irritation of the Skin to Reducing inflammation and Itchiness, from Strengthening the skin Barrier to Balancing the microbiome Tatcha indigo Overnight Repair Does it all.
The Brand Uses Indigo in many of its Products, Indigo is the Key Ingredient of this Product which has Been Used in Japan for Centuries to Heal Irritation and Soothe Wounds. This Cream has dedicatedly used Japanese indigo cream for People with Sensitive Skin.
Along with Japanese indigo, it has a Red Sage root that gently Soothes Skin Conditions such as Redness to Dry Patches to Skin Irritation that is Caused by Environmental stress. it has Ceramides that replenish Lipids to keep Moisture inside. it Keeps the Pollutants at Bay and Reduces the Signs of Aging such as Fine lines, and wrinkles while deeply Hydrating the Skin with Hydraulic acid.
Moreover, it has Mondo Grass Root that Balances Skin Microbes by Activating its Natural Immune Defenses by Cultivating Good bacteria which Helps the skin to Perform Best.
it is a lightweight cream that is made with the aim to Combat stress. Due to its Silky Serum in Moisture Texture, it Deeply nourishes the Skin and Keeps it Hydrates For a Long Time.
This Product was Made During Early Lockdown with the Aim to Protect the skin From damage that will be caused post-COVID due to Stress. This Product will Improve the Skin tone While keeping it Soft, supple, and Radiant. and in due course of Time, one can Vitness the Decrease in Breakouts, bumps, and Redness.
The Effect of Stress on Skin differs From Person to Person, On Some, it Shows as Pimples and Fine lines, on Some it Appears as Acne, and in the Worst case of it. For Providing the Skin an Intense Boost Hydration Tatcha indigo overnight Repair Cream is Perfect. it will Not Only Make the Skin Supple But also strengthen the Skin Barrier.
Key Benefits:
Lightweight
Fragrance-free
Deeply Moisturizes the Layers of Skin
Strengthen the Skin Barriers
Reduces Signs of Aging
Provides Intense Hydration
Quick Absorbing
Non-Greasy
if you are Buying this Product from the USA Click Here:
if you are Buying this Product from India Click Here:
---
Recommended Articles: