Explore Other Foxtale Skincare Products | Check Prices on Amazon
Foxtale is a New and Promising Brand that has Launched Vegan and Cruelty-Free Skincare Products at Affordable Prices. Their Products Have Been Proudly Featured in Fashion Magazine Grazia's Most Popular Brands, idiva, and ELLE. Their Innovative formulas and Skincare Expert Led Product Trials had Made them Stand Out Among the Other Brands. It has a Versatile Range of Products Specially Curated For Every Skin Type. One of their amazing Product is the c for yourself Hydrating and Brightening Serum Let us introduce you to all of its Benefits: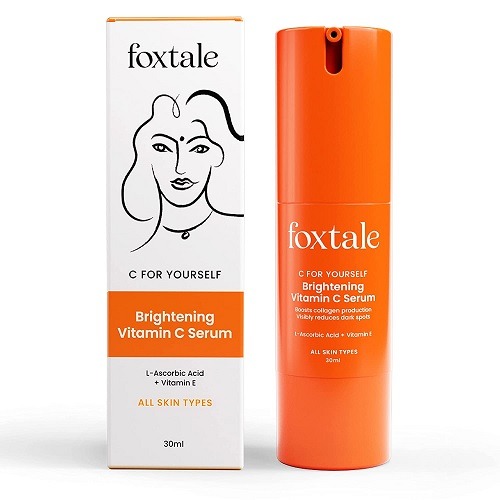 C for yourself Serum by Foxtale Aims to Bring out the Best in you it Helps in Improving the appearance of the Skin. it has the Purest and most Powerful form of Vitamin C the L 15% L-Ascorbic Acid that Reduces the appearance of Spots, Hyperpigmentation, and Finelines, Making your skin Radiant by boosting the Production of Collagen. it has 1% Vitamin E, which has antioxidant properties that act as a shield against environmental Stressors and Sun Damage. Moreover, it Eliminates the Signs of Aging and Acne Scars while reducing inflammation.
Furthermore, it has Hydrating Emollients, Dicaprylyl Carbonate, and C 15-19 Alkane that forms a Protective layer on the Skin keeping Pollution and Dirt at Bay while giving the skin a Natural Looking Glow. The Creamy Texture of Serum Glides Smoothly and Deeply Moisturizes the Skin without being Oily and Sticky. This Gentle Serum improves the Structure of the skin Making it look Beautiful, Glowing, and Supple.
Highlights & Conclusion of the Foxtale C for yourself Serum:
Prevents From Damage Caused by Pollutants and Free Radicals
Hydrating and Moisturizing
Evens Out the Skintone
Prevents Pre-mature Aging
Combats Dull and Dry Skin
Boosts Collagen production
Vegan
Lightweight
ideal for sensitive Skin
Dermatologically Tested
Cruelty-Free
Sulphate-Free,
Paraben and pH 3-3.5 Free
Conclusion:
The foxtale C for yourself Serum is a Skin Friendly Product that aims to Preserve the Beauty of Our Skin with Innovative Formulation. if you are Looking for a Hydrating and Moisturizing Solution for Dry and Sensitive Skin then this foxtale C for yourself Serum is your Mate.
---
For more information on the Foxtale C for yourself, Serum Click Here to Read:
Recommended Articles: