Air Conditioners Have Become an Essential Need in the Modern Society Therefore, A lot of Varieties of Air conditioners are Launched day by day For Fulfiling Different Needs of People which also Brings Confusion of Selecting the Right One for yourself. There are a Lot of Brands with varieties of Split Ac's Air conditioners in Terms of Tonnage, Cooling Capacity, Energy Efficiency, etc.
People Want to Select the Right One so that they Don't regret it Later So to Assist you in Picking the Right One Here we Have Listed the Top 5 Best split AC's Air conditioners and Their Detailed Analysis to Help you Choosing Better.
1. LG 1.5 Ton 5 Star Dual Inverter Split AC
This Split AC From LG will Blow Cool Air in Multiple Directions to Ensure Balanced Cooling Inside the Room, Even During Power Cuts as it is Built with Inverter Compressor. Further, this Air Conditioners Has an HD filter That Effectively Removes Dust, Pet Dander, and Harmful Bacterias, It Also Automatically Adjusts The Power Following the Heat Load, Consequently, it is an Energy- Efficient and Environment-Friendly Product and it also Ensures Comfortable Cooling During Rainy Season With its Monsoon™ Comfort Technology.
It Comfortably Cools the Room even when Temperatures Outside Reaches to 52˚C, with LG's Superior Technology of DUAL COOL inverter. This Ac has Active Energy Control Feature that Reduces 40% – 80% Power Consumption and saves up to 57% Energy. It is Built With GOLD FIN™ CONDENSER that Provides Protection Against Salty Air, Rain, and Other Corrosive Element.
Specification:
100% Copper with Ocean Black Technology
Better Heat Withstanding
Low Refrigerant Detection
Pros:
Stabilizer Free Operation
Low Maintenance
Convenient Problem Solving
Lowest- Noise Operation
Monsoon Moisture control Technology
Double Filtration System
Cons:
2. Sanyo 1.5 Ton 5 Star Dual Inverter Wide Split AC

This Sanyo Dual Inverter Split Ac Ensures Faster Cooling, with its Eco-Friendly Function it Optimizes Performance of the Ac for Energy Efficient Operation. It Has a 2.5 PM and Anti Dust Filter That Protects From Dust Particles and Provide Clean air. Furthermore, It has an Inverter Compressor that Adjusts the Power Depending upon the Heat Load. Also, it is an environmentally Friendly Product as it uses R32 Refrigerant Gas That Ensures Low Ozone Depletion and Global Warming.
It Has a Glacier Mode that Increases Cooling By 35% Through Higher Speed Fan For High-Speed Cooling. This Ac Has an Auto-Adjust Mode Too that Automatically Maintains the Temperature of Room for Comfortable Sleep. Sanyo Inverter Acs are Energy Efficient and Boast higher ISEER rating that Helps in Saving More on Power Bills.
Specification:
Auto Restart
Eco Function
Timer Function
Pros
Dehumidifier
Backlight Remote
Lowest-Noise Operation
Stabilizer Free operation
Glacier Mode For Instant Cooling
Hydrophilic Fins for Corrosion Protection
100% Copper Condensor For Heat Transfer
Cons
3. Panasonic 1.5 Ton 5 Star Wi-Fi Twin Cool Inverter Split AC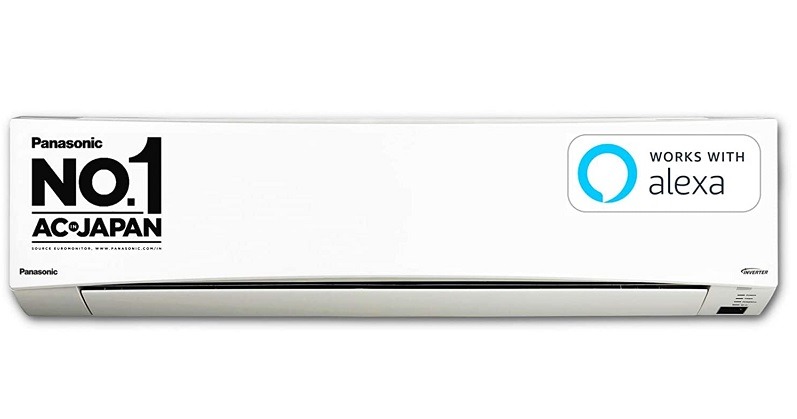 This Panasonic Air Conditioner Offers Uncompromising Quality and Fine Product Manufacturing. It effectively Cools the room with its Twin Cool Inverter Compressor. This Exceptional Ac Offers Quality Air Cooling with Conditioning Comfort with just a Push of Button. It Controls:
Conquer Heat: Its Powerful Mode Cooling Mode Instantly Cools the Room the Moment you Switch on the Air Conditioner. It effectively Cools the Air even on the Hottest Day of Summer.
Controls Humidity: This Air Conditioner Removes Indoor moisture in its Dry Mode By Acting as De-Humidifier. Dry- Mode is Extremely Helpful During Monsoon when Moisture Level is High.
Counter Pollution: This Air Conditioner is the Future of Healthy Cooling, as it is equipped with a PM 2.5 Filter That eliminates Dust, Bacterias, and Pet danders from the Room.
This Ac Works with Amazon's Alexa Technology and Google assistance offering Extra Comfort by Seamless and Hand Free Operation that Can be Operated With Voice Command.
This Panasonic Ac Can be Controlled with Al-Enabled Marie App that Offers Unique Features Such as Customized Sleep Mode, Preset Temperature Profile For Night Comfort, and a Different Profile For Each Day. Furthermore, it has an Auto Intuitive Auto-Diagnosis Feature that Detects Issues In Advance.
Specification:
Full Control Anytime & Anywhere
One Touch Service and Self Diagnosis
Pros:
Wi-Fi Controlled Air Conditioner
Lowest- Noise Operation
Stabilizer Free Operation
Works with Amazon Alexa and Google Assistant
Smart Diagnosis with One Touch Service
Shield Blu Anti Corrosion Technology
R32 Refrigerant: Ensuring 0% Damage to Ozone Layer
Cons:
No Horizontal Oscillation
4. Voltas 1.4 Ton 3 Star Inverter Split AC
This 3 Star Inverter Split Ac is an Energy Efficient Air Conditioner and Ensures Ultimate Cooling, with the unique adjustable Mode it Not Only Maintains a Comfortable Temperature in Different Situation But also Saves more on electricity.
The Unique Louvre Design of this Ac delivers Higher Air Stream and Aid in Cooling Room Faster. This Air Conditioner Understands the Ambient Weather Conditions and Number of People in the Room and Accordingly Shifts to Predefined Lower Cooling Capacity By Restraining Inverter Compressor's Running Capacity.
It Effectually Improves the Quality of indoor air and provides Dust-Free fresh air By PM 2.5 Filtration System. Moreover, This Ac Has a Superdry Dehumidifier Mode That Captures Maximum Water Vapour and within Less Time.
Specification:
LED Display
Auto Restart
Timer
Self-Daignostic
Pros
Active Dehumidifier
Sleep Mode Feature
Low Noise Operation
Stabilizer-Free Operation
Turbo Cooling
Cons
5. Carrier 1.5 Ton 5 Star Inverter Split AC
This Modish Carrier Ac is accoutred with Flexicool Technology that is offering Personalized Cooling as Per the Ambient Temperature, Different Weather Conditions, and Requirments. This Technology Allows you to Choose Between 4 Different Cooling Capacities and Optimizing Their Energy Consumption as per your Need and Save More Electricity. Its 4-in-1 Cooling Modes Include:
Free Running Mode: For Extreme Heat- 1.6 T
100% Mode: For Sunny Summers: 1.5 T
75% Mode: For Rainy Season- 1.2 T
50% Mode: For Comfortable Atmosphere: 0.8 T
Furthermore, It has an Insta Kool- Turbo Mode that quickly Cools Down the Temperature as per your Need.
In Addition, It Has a FOLLOW ME Feature, When This feature is selected the Inbuilt Sensors in the Remote gets Activated which allows the Air conditioner to adjust the Temperature According to the Atmosphere around the Remote Control.
Further, it is equipped with a PM 2.5 Filter and HD Filter that filters out Micro Pollutants, Dust, and Pet Dander and Provides Fresh and Clean air to Breath.
Specification:
Aqua Clear Protection
100% Copper Condensor Coil
Condensor (10 yrs Warranty) and PCB Coverage(2 yrs Warranty).
Pros
Eco-Friendly Coolant R-32
High Ambient Working
Low Noise Operation
Sleep Mode
Fast Cooling Mechanism
Cons
No Horizontal Swing
Needs Better Assistance During Installation
---
Best Air Conditioner Buying Guide:
Before you Opt to Buy Air Conditioners there are a lot of Things you Should Consider in Order to Acquire an AC that Link-up as per your needs.
1. Size of the Air Conditioner
If you are Planning to Buy an Air Conditioner then Firstly, you should Compare the Size of the Room and the Air Conditioner Because Size Matters a lot !!
If your Room is Small Consider Buying a Small Air Conditioner Similarly, If you Have a Large Area to Cool then you Should Look For an AC According to the Size of the Area. A Small AC in a large Room Cannot effectively Cool Down the Room Likewise an Over-Sized AC will Maintain an Uncomfortable Temperature.
2. Star Ratings
It Shows a Precise Idea of the Energy consumption of the Air Conditioners. The Higher the Star Ratings the Lesser the Electricity Bills. Star Ratings are not Decided By the Product Manufacturing Company it is Provided by ISEER ( Indian Seasonal Energy Efficiency Ration) and BEE (Bureau of Energy Efficiency)
3. Inverter AC VS Non-Inverter AC
Air Conditioners are available in Two Alternatives Non-Inverter and With Inverter. The Major Difference Between these Two is their Compressor !!
The Inverter AC's Compressors Works at Variable Speed that Adjusts the Power Depending upon the Heat load. Which Means the Compressor Adjusts the Speed According to the Cooling Needs and when it Reaches the Ideal Temperature the Compressor Motor Lowers its Speed, Saves Energy, and Controls the Flow Rate of the Coolant.
A Non-Inverter AC Works at Full Speed all the time and when the Room Cools Down the Motor Turns off Automatically and Turns on Again when Temperature Turns Hot But, This Repeated Motion of On/Off Consumes a lot of Energy and is Noisy Too. That is Why an Invertor Compressor AC is the Best Choice.
4. Warranty Period
Electronic Devices Needs Maintaines From time to time and Sometimes Due to Climatic Condition and Technical Fault Air Conditioner Needs Repairing and Servicing and When the Product is on Warranty the Company Repairs it For Free that is why you Should Look for an AC with Long Warranty Period. So Before Purchasing Check the Retailers Website and Ask them For the Quotation.
5. Type of Air Conditioner
There are Two Types of Air Conditioners Window AC and Split AC.
Window Air Conditioners are Cheaper and Fit in Lower Budget. They are easy to Install and Remove plus Can be Shifted Anywhere Easily. But They are noisy and are not Energy-Efficient whereas Split AC Saves Energy, Enhances the Appearance of the Interior, and Can be Installed in any Room. But Split AC is Costly than Window AC So Before Buying Research Properly and Invest.
6. Room Size
Another Important Factor that you Must Keep in Mind is the Size of the Room. After Measuring the Size you will Get to Know What Tonnage of Air Conditioner is Ideal For the Area. Here is a List of Tonnage According to the Room Size:
Under 100 Sq Ft: 0.8 Ton
Between 100- 200 Sq Ft: 1 Ton
Between 200-300 Sq Ft: 1.5 Ton
If Room is 500 sq ft or Above: 2 Ton or Above
---