The House of Alfred Dunhill Has Designed 38 Fragrances. The First Fragrance was Released in 1934 and Earliest was Designed in 2021. Dunhill has a Variety of Scents that Lures Everyone, Here are the 5 Best Perfumes For Men from the House of Dunhill.
1. Century Blue By Dunhill for Men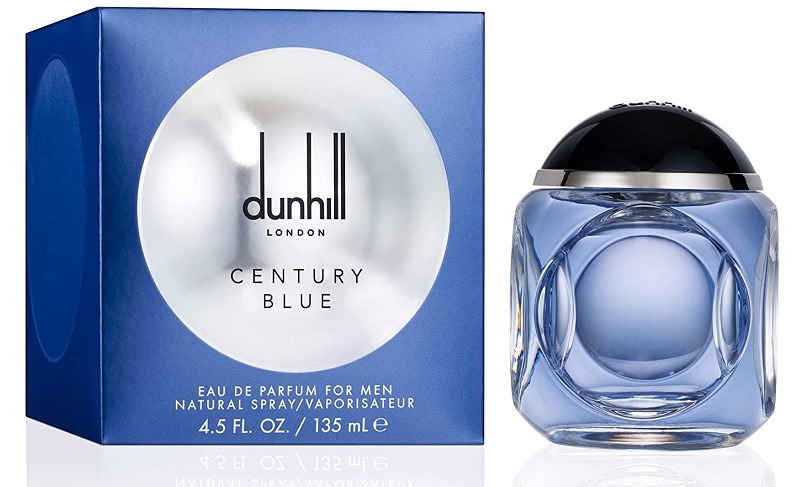 Released in 2019, Century Blue By Dunhill London is a Woody Aromatic Fragrance For Men. The Top Notes open with the Burst of Zesty Mandarin Orange, Bergamot, and Black Pepper. The Heart Holds the Blooming Iris, Ginger, Neroli, and Styrax. The Base Notes consists of Ambroxan, Seasalt, Oakmoss, and Patchouli.
Century blue is a Light and Fresh Fragrance ideal for Casual wearing that Radiates Holiday-Beachy Vibes. its Masculine and Pleasing scent Keeps you Fresh All Day.
Pros
Clean & Crisp Scent
Refreshing
Ideal for Spring & Summer
Travel-Friendly
Long-Lasting
Strong Sillage
Cons
2. Dunhill Icon Elite
Released in 2016, Icon Elite By Dunhill is a Spicy-Woody Fragrance for Men. This Intense Fragrance Opens with Crispy and Citsusy Notes of Lime, Bergamot, Bitter Orange, and Cardamom. The Heart is a Blend of Vetiver, Juniper, Blue Sage, and Black Pepper along with the Woody Base Notes of Ebony, Sandalwood, Suede, and Labdanum.
Icon Elite is a Woody and Masculine Fragrance Crafted For Harmonizing Senses, this Scent is a Balanced Blend of Woods and Spices.
Pros
Intriguing Scent
Ideal for Spring, Winter, & Fall
Day & Night Scent
Long-Lasting
Good Projection
Cons
3. Dunhill Icon Racing
Released in 2017, Icon Racing By Dunhill is a Woody Aromatic Fragrance For Men. The Top Notes Opens with Mild Spiciness of Cardamom, Zesty Bergamot, and Grapefruit. The Heart Notes Have a Floral whiff of Lavender, Orange Blossom, and Black Pepper. The Base Notes Close the Composition with Guaiac Wood, Vetiver, and Musk.
Icon Racing is the Scent of a Gentlement, it is Elegant, Sophisticated yet masculine. This Scent Maintains the Equilibrium Between Floral and Woody Notes.
Pros
Elegant yet Masculine Scent
Ideal For Summer, Spring & Fall
Day Scent
Decent Projection & Sillage
Long-Lasting
4. Century By Dunhill
Released in 2018, Century is the Orignal Fragrance That was Created Before Century Blue By Dunhill. It is an Aromatic Citrusy Fragrance For Men. The Top Notes Have Refreshness of Bergamot, Grapefruit, and Mandarin Orange. The heart Holds the Combination of Neroli, Oblibanum, and Cardamom. The Base Notes Have Enchanting and Deep Base of Cypriol Oil, Sandalwood, and Musk.
Century is a Classic Fragrance Perfect of a Gentlemen and the will Also Reenergise you post Workout.
Pros
Ideal For Casual Wearing
Long-Lasting
Decent Projection
Travel-Friendly
Fresh & Clean Fragrances
Cons
5. Desire For a Man By Dunhill
Released in 2000, Desire for a Man By Dunhill is an Amber Woody Fragrance For Men. The Top Notes Have Apple, Lemon, Neroli, and Bergamot. The Heart Holds the Floral Composition of Rose, Teak Wood, and Patchouli with the Base of Creamy Sweet Scent of Vanilla and Musk.
Desire is a Sense Tantalizing Scent that Slowly Grown and Captivates Heart.
Pros
Attractive & Subtle Fragrance
Woody- Oriental Fragrance
Ideal For Fall, Winter, & Spring
Long-Lasting
Travel-Friendly
Night Scent
Cons
---
Recommended Articles: