During the Winter Our Skin Gets Even Drier and more Irritated than usual so it is important to use Products that are gentle on our Skin, one that Doesn't Rip off the Skin's Natural Moisture and Keeps our Skin Moisturized and Fresh all day long. Here are the 5 Best Gentle cleansers that will Keep your Skin Hydrated, Moisturized, and Radiant Looking.
The Products mentioned in this post are Listed after Researching and Analysing Different Aspects and it Contains affiliate Link which Means if you purchase from these link we may earn a Small Commission. Thank you For Reading!
Best Facial Cleansers For Dry Skin Type
1. Cetaphil Cream Face Wash
Cetaphil Gentle Cleanser is a Good Option for People with Dry and Sensitive Skin. it Helps Soothe the Skin, Provides Hydration, and Protects the Skin Moisture. it's a Clinically Proven Formula that cleanses the skin without irritating it. It Contains Niacinamide (Vitamin B3) and Panthenol (Pro-Vitamin B5) which are Beneficial for the Skin Moreover, it has Hydrating Glycerin to Protect the Skin's Natural Barrier.
This Cleanser Protects the Skin From Roughness, Dryness, Irritation, Tightness, and Weakened Skin Barrier. The Creamy Texture of the Cleanser Easily Glides onto the Skin and Removes the Dirt, leaving it Soft and Refreshed.
Key Benefits:
Fragrance-Free
Defends Against 5 Signs of Skin Sensitivity
Hypoallergenic
Non-Comedogenic
Paraben-Free
2. Episoft Cleansing Lotion for Sensitive & Dry Skin
Episoft Cleansing Lotion is a Mild Cleanser that Gentle Removes Dirt, dead Cells, and Excess Oil Without Being Harsh on the Skin.
This Cleanser is Formulated with Healthy Skincare Ingredients Such as Butylene Glycol that Layers your Skin with Softness and Improves its Texture. it has Cetearyl that Soothes and Heal the skin as well as it Has Setostearly Alcohol that Heals Dry, Rough, and Irritated Skin.
it is a Paraben and 100% soap Free Cleanser that also Boosts Collagen Production While Keeping the Face Hydrated. Moreover, it Prevents the skin From Premature Aging. This Cleanser has a Unique pH Balanced Formula (5.0-7.0) that Provides Protection to the Acid Mantle of the Skin and Prevents Allergence, Bacteria, and other Foreign Material To Enter the Skin.
This Sulfate-Free cleanser Effectively Manages and Resist Sebum secretions and Acne Breakouts, Making your Skin Feel Supple and Fresh All Day.
Key Benefits:
SLS-free
Fragrance-Free
Paraben-Free
Soap-Free
Ideal for Dry and Sensitive Skin
3. Glowderma Foam Moiz lotion for Cleaning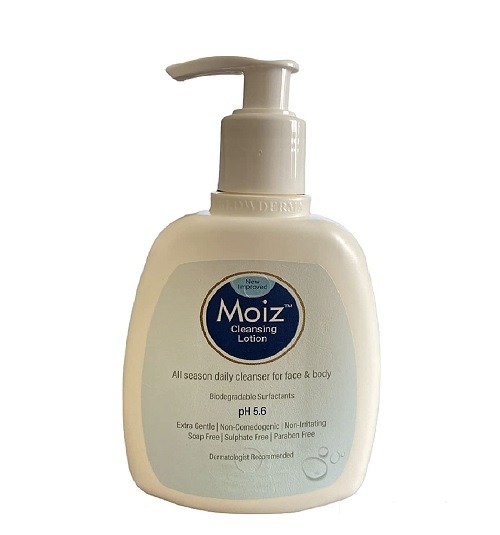 Glowderma Foam Moiz Cleanser is Formulated with Emollient Rich Ingredients such as Stearyl Alcohol and Cetyl that Gently Cleanses the Skin Without Ripping the Skin's Natural Moisture. it has the Goodness of Aloe vera and D-Panthenol that Provide Deep Moisturization to the Skin Making the Skin Look Healthy and Radiant.
This Gentle foaming Cleanser Removes Excess Oil and Dirt from the Skin Leaving it Soft and Fresh Without Causing Dryness. It Prevents the Skin From Signs of Skin Sensitivity such as Tightness and Roughness.
This Cleanser has a Skin Friendly pH of 5.6 which Makes it a Good Choice for Acne-prone, Dry, and Oil Skin.
Key Benefits:
Mild Fragrance of Almond
Non-Irritating
Gentle on Skin
Moisturizing
Ideal for Sensitive Skin
4. The Derma Co Creamy Face Cleanser
This Creamy Cleanser From Derma and Co is a Non-Foaming Facewash Ideal for Sensitive and Dry Skin. it Contains Skin Friendly Emollient Such as Cetyl Alcohol that Reduces the Occurrence of Flaky and rough Skin By Smoothening the Outer Layers of the Skin. it has Stearyl Alcohol that Hydrates the Skin and Reduces Skin Sensitivity Such as Irritation, Cracking and Peeling of the skin.
The Non-Foaming Formula Of the Cleanser Provides a Non-Sudsy and Moisturizing Feeling on the Skin. it is a soap Free Cleanser that Doesn't irritate the Skin, Making it an Ideal Pick for Sensitive Skin.
Key Benefits:
Fragrance-Free
ideal For Sensitive or Redness-Prone Skin
Hydrating & moisturizing
Gentle on the skin
5. Minimalist 5% Aquaporin Booster Cleanser
The Minimalist 5% Aquaporin Booster Cleanser is a Hydrating combination of Humectants and Non-Drying Mild Cleansing Agents That Gently Removes the Dirt While Keeping the skin Hydrated. It Has Glycerin in Combination with Pure Glyceryl Glucoside that Stimulates the Aquaporin Channels of the skin Which results in Better Transportation of Water in the Skin Hence Improving the Hydration level of the Skin.
Moreover, it Boosts the Skin with the Goodness of Hyaluronic Acid, Diglycerin, Glycerin, Vitamin B5, and Betaine to maintain the Moisture levels of the Outermost layer of the skin Even after Cleansing.
Furthermore, it Contains Wheat Protein that Softens the Skin along with Soothing Ingredients Such as Allantoin & Oat Extract which Keep the Skin Supple and Soft.
Key Benefits:
Strengthen the Skin Barrier
Eliminates Dryness, Dehydration, and tightness of the Skin
Deeply Hydrating
has Skin-friendly pH of 5.5
Fragrance-Free
Non-Comedogenic
Essential-Oil Free
---
How to Select the Best Cleansers For your Skin Type:
For Dry Skin Type:
Dry Skin is Caused due to Hypoactive Sebaceous Gland which Results in a Lack of Moisture in the Skin. So People with this Condition should Look for a Cleanser or Facewash that is Free of Hypoallergenic and Harsh Chemical-free Substances. Non-Foaming, Oil-Based, and Fatty Acid Facewash are the Best For Dry Skin Types. Moreover, Look for a Fragrance-Free Cleanser and Facewash for Avoiding any Allergy and irritation in the Nose. If you are Looking for Natural Ingredient Based Cleansers then you should go for Shea butter, Cocoa butter, Honey, and Milk Based Facewash and Cleansers.
For Oily Skin Type:
Oily Skin Condition is a result of an Overactive Sebaceous Gland Which Produces Sebum. This Sebum and Dirt on the Skin Can Clog the Pores So People with this Condition Should Look for a Cleanser that Controls excess Oil Production and Unclog the Pores. One should Look for Salicylic Acid, Niacinamide, Clay-Based, and Tea-tree Oil Cleansers and Facewash these Will gently Cleanse the Skin Without Clogging the Pores.
For Sensitive Skin Type:
if you Ever Spotted Signs of Skin Sensitivity Such as Irritation, weakened Skin Barrier, Tightness, or Redness after Shaving or Scrubbing then you have Sensitive Skin that Requires Special Attention. The Reason for skin Irritation is an imbalance in pH level. One With this Skin Type Should Look For Ingredients Such as Aloe-Vera, Panthenol, Ceramide, and Glycerine in the Cleanser it will not Soothe the Skin but will keep it Moisturized and Hydrating.
For Combination Skin Type:
if you Want to Know whether your Skin type then after Washing your Face Do not Apply anything for at least 30 Mins and See what areas of your Face are Dry or Oil, if you find that you have Oily T-Zone and Dry Cheeks than you are a Combination skin Type in this case you should Look for a Gentle soap-free Cleanser and SLS-free Cleanser that Doesn't Contain any Harmful Chemicals.
For Normal Skin Type:
Normal Skin type is a Condition Where the Skin Doesn't Require a Specific Type of Product as its Nor dry neither Oily but Due to Surrounding and pollution Dirt and Oil Sticks to the Surface of the skin so One Should Take care of the Skin for Maintaining the Skin Structure, in this Condition, you should use a Mild, Hydrating cleanser Such as Micellar Water-Based Cleansers.
Recommended Articles: