TOPIC: The Top 5 Best Robotic Vaccum Cleaners in India 2021
Robotic Vaccum Cleaners are the New age Cleaning Gadgets. it is like having your Personal Robotic Assistant that Effectively Cleans your Home According to Your Needs Whether you want to clean a Marble floor, Wooden Deck, or a Carpet. it Cleans Impressively even if you have pets in your home.
There are Various Types of Robotic Vaccum Cleaners Available in the Market which can Clean the Floor easily But, Here I have created a list of the Best 5 Robotic Vaccum cleaners in India that Can do the job as per your need.
IBELL 360° Smart Sensor Robotic Vacuum Cleaner comes with a 1-year warranty.
Cleaning Type Includes

Control Type: App, Remote & Voice control
An Auto Mode for General Cleaning
Scheduled Mode
Full-GO (maximum clean) Mode
Edge Clean for Corners
Spot Cleaning Mode for Cleaning a Particular Zone
and Manual Mode, allowing the user to steer the robot.
It also has a Wet cleaning mode, making it all together to give options of Sweeping, Vacuuming, and Mopping Damp or Wet floors.

Tank Capacity – 150 ML & Dust Box Capacity – 250 ml. This has a universal Turbo Brush system that ensures it tackle multiple surfaces.
It has an Anti-collision Feature, with the help of Anti-drop and Anti-Bump Sensors.
It lasts up to 120 minutes of work (with a full charge), it also automatically docks and charges, and is always prepared to clean the floor.
The unit can also be controlled by using the app 'Tuya Smart' and over a WiFi connection from your phone or connected home automation devices (Amazon Alexa and Google Home).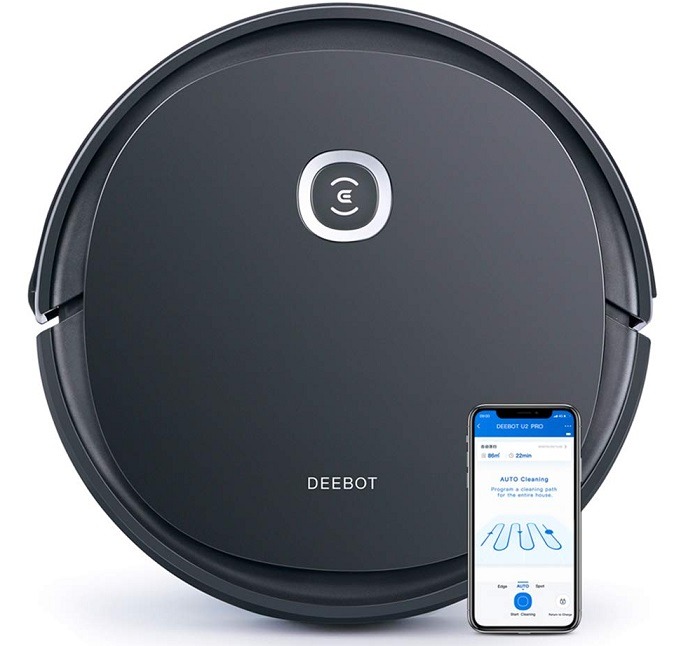 ECOVACS DEEBOT U2 Pro Smart Robotic Vacuum Cleaner has OZMO Mopping Technology: DEEBOT can simultaneously vacuum and mop to remove up to 99. 26% of bacteria on floors (study by Hygiene and Microbiology Research Center). The ECOVACS Home app enables you to adjust the water level of the mopping. Simply pop on or off the cleaning cloth plate to easily switch between vacuum and mopping functions. An electronically controlled water pump consistently draws water from a large reservoir to initiate mopping.
Pet Care kit: DEEBOT U2 PRO comes with an innovative Pet Care Kit specially designed to handle pet hair, even during shedding season. The Pet Care Kit comes equipped with the largest* XL Dustbin (800mL) and a specialized Tangle-Free Brush to handle large volumes of hair. (*Compared to ECOVACS' robotic vacuum cleaners in the market till May 2020.)
Hard Floor Mode: The hard floor mode, optimized for hard floor cleaning, ensures that DEEBOT U2 PRO can follow an advanced, back-and-forth cleaning pattern for a more thorough and systematic clean. Since DEEBOT U2 PRO memorizes cleaning paths, it can be paused in the middle of a task and resume to follow the path when re-started.
Max+ Mode & UP TO 110 MINUTE RUNTIME: Max+ Mode can be used when you need an intense deep clean. It increases suction power by approximately 2.5 times compared to the standard model for the most demanding tasks, even for heavy dirt on the floor. The standard mode suction power is suitable for daily cleaning. Longer battery life for even more cleaning!
Milagrow BlackCat21 Robotic Vacuum Cleaner has【Mapping] 'Gyro Mapping' ensures cleaning in long S patterns without losing orientation
【iBoost】Upto 1500Pa Suction power. Japanese motor & extra dirt detection sensor switches from 800Pa to1000 to 1500Pa when picking up pet hairs or stubborn dirt for intense deep clean daily
【Large Water Tank & Dust Bin】600 ml large dustbin, 110 ml water tank, and 29 cm wide special microfiber mop.
【Thin】8.4 cm only. Thin vacuum cleaner robot so that it can go under sofas, beds, almirahs.
【14 Sensors】 With its Anti-collision, Anti-drop sensors, and soft cushion bumpers, the robot avoids obstacles and protects your precious furniture.
【Four Cleaning Modes】Give your home the perfect cleaning for every time with a choice of cleaning modes- SMART mode for general cleaning, WALL FOLLOW mode for specific edges & wall to wall cleaning, and SPIRAL mode for when intensive spiral cleaning in one area is required. REMOTE for easy manual control of the robot
【Purifies Air】HEPA 12 filter has a cleaning efficiency of 99.9% up to 0.1 microns of particulate matter
【APP Control】 Live mobile App lets you realize operations like Change cleaning modes and directions, increase the suction power, schedule a clean anytime, etc.
【110 minutes nonstop cleaning】Lithium Ion battery with LG Cells 【Magnetic Strip Virtual Wall 】To prevent the robot from going into unwanted areas 【Warranty 】5 years on Suction Motor, 2 Year on Robotic Vacuum Cleaner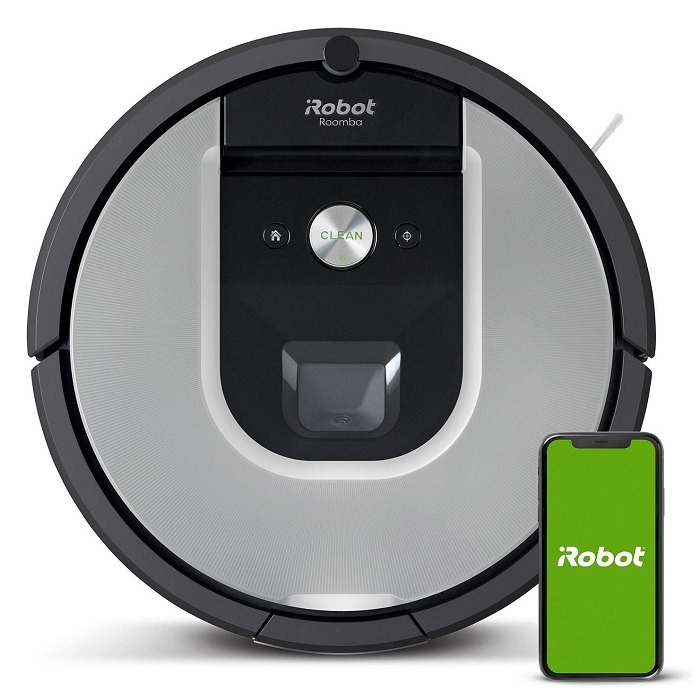 iRobot Roomba 971 Vacuum Cleaning Robot Cleans continuously, recharging as needed until the job is done
Ideal for Animal Hair – effectively absorbs animal hair from your floors, using unique multi-floor brushes and 5X more suction power
A premium 3-Stage Cleaning System powered by an advanced vacuum motor that spins at 10,000 RPMs to deliver 5X the suction for strong pick-up performance across carpets and hard floors.
Using advanced vSLAM navigation technology, the robot gathers over 230,400 data points each second that the 1.3 GHz quad-core processor uses to create an accurate map of your home.
iRobot has over 25 years of robotics expertise and innovation with over 25 million home robots sold worldwide. Whether you choose Roomba, Braava or both-your floors get the specialized care they need.
Warranty: Warranty is valid for a period of 24 months for the appliance, for any manufacturing defects only, and 12 months for the battery, from the date of purchase.
Includes: Roomba 971 robot vacuum, Home Base Charging Station, Line cord
Milagrow iMap Max Navigation Robotic Vacuum Cleaner doesn't just vacuum and wet mop the floor with extra pressure, it actually self-cleans itself. The washing base has two 800ml water tanks one contains clean water and the other contains sewage water. After mopping a certain area, the iMAP Venii Max returns to the base for self-cleaning
Milagrow IMAP Venii Max is a Fully Independent Self Navigating and Self Cleaning Robotic Vacuum Cleaner, based on AI technology used by luxurious driver-less cars
The iMAP Venii Max has been developed with extensive research of over three years. It has a patented wet mopping mechanism that comes down and puts pressure of 10 Newtons on the Floor by two hydraulic shafts, based on an AI algorithm. This extra pressure on the floor is able to clean most stubborn dirt and stains from the floor like those of coffee and sauce. Ordinary floor robots apply no pressure on the mop and hence cannot clean stubborn dirt or stains
The Milagrow IMAP Venii Max uses the same AI technology which is used in unmanned vehicles. It uses a Lidar sensor with Milagrow patented real-time terrain recognition technology for faster mapping and real-time path planning. No overlapping, no missing areas. It has a 5200mAh battery and strong 2200Pa powerful suction to pick even small stones or beans. 5-year warranty on motor, 2 years on the robot. Call for demo and customer care.
#if you have used any of these Robotic Vaccum Cleaners Please Comment down and Share your Experience with the Product
---
Recommended Articles: