Winter is a good time to explore various tea flavors, India has a Rich tea culture, offering a diverse range of tea blends that cater to Various palates and preferences, from robust and spicy to delicate and floral. Each blend carries its unique character and is enjoyed across the country in various settings and occasions. Here are Some Rich and warm Tea Blends that will keep you Cozy during Winter.
1. The Tea Heaven Kashmiri Kahwa
Tea Heaven's Kashmiri Kahwa tea is one of the most beneficial teas, it has Saffron that Boosts the Functioning of the Brain. it has Cardamom Which Boosts Metabolism, and Cloves with antibacterial Properties. Also, it has Cinnamon that controls blood sugar levels. it is Almond that Reduces Bad cholesterol, The Star anise in it detoxifies the Body while the Rose petals in it Tone. Furthermore, it has green tea that Improves your skin. This Tea Blend Kashmiri Kahwa tea helps make you feel relaxed and reduces anxiety. It also helps curb the negative effects of stress-induced toxins in the body.
Highlights:
Ingredients: Pure Kashmiri Kahwa | Cardamom | Cloves | Star Anise | Rose Petals | Green Tea
Boosts Metabolism & Reduces Bad Cholesterol
Detoxifies the Body
Improves Skin Tone
Reduces Stress and Anxiety
Manages Blood Sugar Level
2. Organic India Tulsi Ginger
Organic India's Tulsi and ginger are known to be all-time Favourite Tea Blends, the healing properties of Tulsi, with the added boost of Ginger, activate the body's fire element which leads to the burning of toxins, and improvement in digestion and Metabolism. Ginger in it prevents and relieves Nausea and Morning sickness. Moreover, Ginger warms emotions while sharpening the senses. It supports the immune system and helps fight illness, colds, and coughs while building Stamina. Furthermore, it helps in reducing Stress and Treating Low Energy.
Highlights:
Ingredients: Tulsi | Ginger
Improves digestion
Boosts Metabolism
Relives Nausea & Morning Sickness
Supports immune systems
fights Cold & Flu
De-stress the Mind and Body
3. VAHDAM, English Breakfast Black Tea
VAHDAM, English Breakfast Black Tea is a classic English Breakfast Tea bringing the finest bounties from the divine Region of Assam, renowned for its Robustness and Brisk flavor.it is a truly Regal and energizing Blend With a High caffeine content and Garden-fresh Aroma and taste, making it your perfect morning companion. Savour 100% Pure tea, packed in a 3-layered moisture-resistant resealable bag for lasting freshness.
Highlights:
Ingredients: Pure Black Tea
High Caffeine is ideal for Morning Breakfast
Boosts Alertness and energy levels
Robust and Brisk Flavor
Anti-oxidant Benefits
Improves Mood and physical performance
4. Chaayos Masala Tea
This Masala Chai from Chaayos has the boldness of Ginger and the heavenly goodness of Cinnamon, Cardamom, Cloves, and Black Pepper are extracted naturally to retain their natural oils. These traditional Indian spices, help relieve stress, energize the body, and boost immunity while the Earthy Ginger helps to fortify the Respiratory system. The Authentic Taste and aroma of this Masala chai offer the authentic flavors of traditional Indian masala and the Premium quality tea leaves will give you a Refreshing Concoction.
Highlights:
Ingredients: Ginger | Cinnamon | Cardamom | Cloves | Blac pepper
Energizes the Body
Helps Relieve Stress
Boosts immunity
Fortify Respiratory systems
5. BLUE TEA Organic Chamomile Flower Tea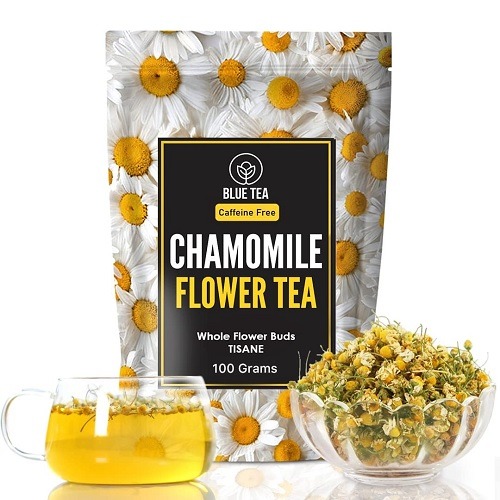 Blue tea's Chamomile tea, a rich source of antioxidants, with mild and calming properties, is often enjoyed before bedtime to relax and de-stress after a tiring day at work due to its mild sedative effects. It can have a calming effect on the mind and body, promoting relaxation. Moreover, with its Anti-inflammatory and antioxidant properties, chamomile tea may promote skin health while reducing the risk of chronic diseases.
Highlights:
Ingredients: Chamomile Flowers
Induces Sleep and
De-stresses the Mind and Body
Improves Skin Health
Reduces the risk of Chronic Illness
6. VAHDAM, Turmeric Ginger Latte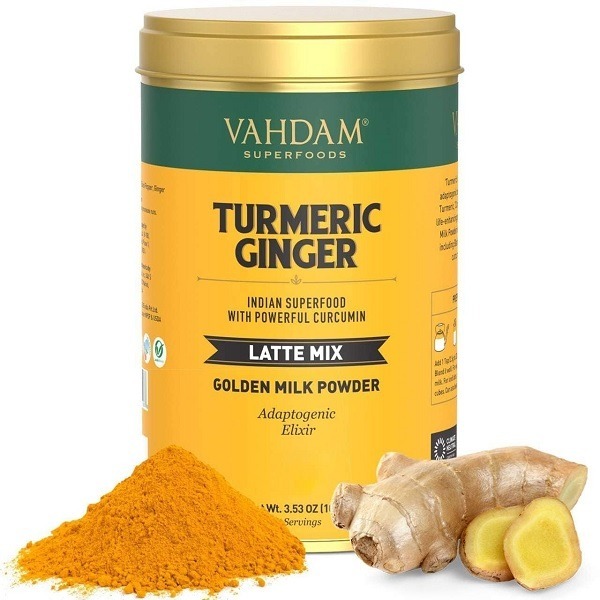 VAHDAM, Turmeric Ginger Latte is a Harmonious fusion of Earthy Spiced Turmeric, Invigorating Ginger, and zesty Black Pepper, a Traditionally Time Honored Ayurvedic Golden Milk recipe that Relieves Pain in the Body while combating Oxidative stress caused by free radicals. The Antioxidants present in Turmeric and ginger may help strengthen the immune system while improving the Blood Circulation in the Body. Moreover, Black pepper it may help Clear Congestion and Provide Relief from Respiratory issues due to its warming properties. These Ingredients are Beautifully Balanced with the natural sweetness of Stevia, creating a delightful blend. This Creamy and Caffeine-free Turmeric Ginger Latte mix offers a Delightful sweet and savory cup of wholesome goodness with Zero calories.
Highlights:
Ingredients: Turmeric | Ginger
Relives Pain, Muscle soreness
May Clears Congestion
Boosts Immunity
Improves Blood Circulation
---