No Doubt! Dogs are one of the Most Fluffy and Furry Pets But Furry Pet Dog Need Maintains Also as they Go For Walk Outside the Home They Come in Direct Contact with Mud, Dirt, Germs, and Allergens that Can Cause Skin infection, Dryness, and Hair Shedding as well as Flea and ticks Start Residing Inside the Coat as Giving your dog a Bath Happens 2 to 3 Times a Month so it is Necessary for us To pick a Right Shampoo for your Dog that Can effectively Clean and Maintain the Hygiene of the Dog. Also, you Need to Pick a Shampoo that has a Balanced pH Level for Fur. So to Cut-down the Hassely we Have Picked the Five Best Shampoos for Dogs That Will Remove all Dirt, Germs, and Mud Effectively. Take a Look.
5 Best Shampoos for Dogs
1. Dogz & Dudez Natural Dog Shampoo for All Breeds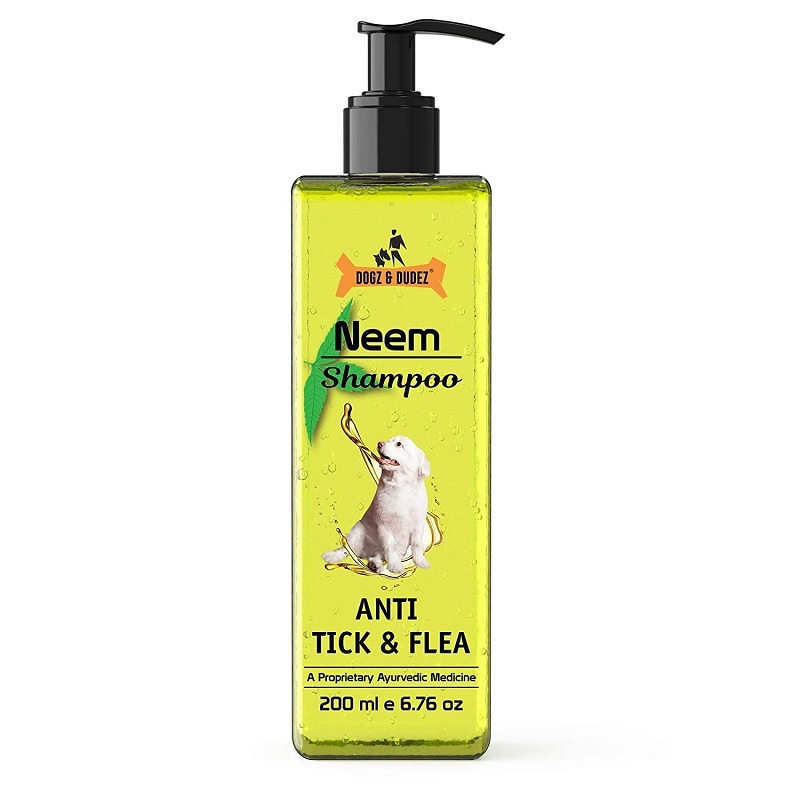 Dogz & Dudez Shampoo is a Natural Shampoo With Plant-Based ingredients Like Neem and Lemon-grass. this Shampoo Comes from a Premium Pet Care Brand that Not Only Removes the Dirt and Moisturizes the Dry and Itchy Skin and Coat but Also Provides Protection Against Ticks, Flea, Parasites, and Insects. This Shampoo Contains Lemongrass that is Known for its Potent Insect Repellent Properties. Besides its Anti-Tick and Anti-Flea Properties, it Also Gives a Refreshing Citrusy Scent to the Pet.
Pros
Organic Pet Care Product
Removes and Prevents Flea and Ticks
Refreshing
Gentle on Skin
Chemical-Free
Cons
Suitable and Safe for Dogs above 6 Months
2. Captain Zack Bling-On The Shine Dog Shampoo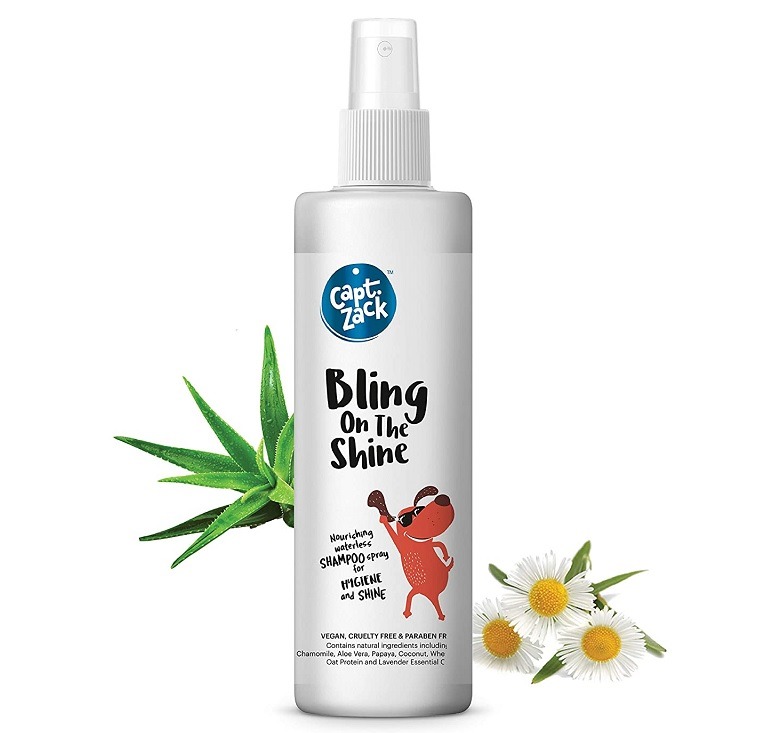 Captain Zack Dog Shampoo is Formulated with Finest Botanical Ingredients. it Contains Aloe vera, Chamomile, Citronella, Papaya Extract & Lavender, Coconut Oil that Moisturizes, Cleanses, and Heals The Skin. This Shampoo has Odour Controlling and Skin Nourishing Properties. It Also Fights Germs and Allergens as well as Keeps the coat Manageable, Healthy, and Shiny. It Contains a Refreshing Aroma that Gives Pet Spa-Like Treatment Also It is Paraben-Free, Vegan, pH-balanced, and Cruelty-Free. Just Gently Apply the shampoo on the Skin and Massage then Wipe Away with a Clean and Soft Cloth.
Pros
Waterless Shampoo Spray
Chemical-Free
Nourishes, Moisturizes & Conditions
Formulated With Natural Ingredients
Refreshing Fragrance
Cons
Suitable and Safe for Dogs above 6 Weeks and Above
3. PAPA PAWSOME Shine O Fur Shampoo with Conditioner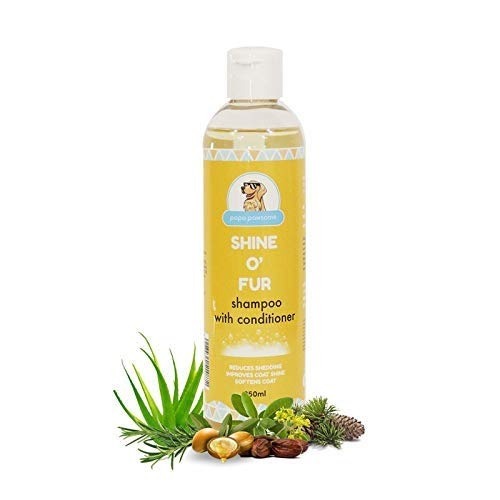 PAPA PAWSOME Shine O Fur Shampoo is Specially made for Improving the coat Appearance and Health of the Skin. It Provides Nourishment, Softens the Coat, Reduces Dryness and Shedding. it has anti-Bacterial and Moisturizing Properties and is made with Natural Ingredients Like Aloe vera Extracts, Jojoba Oil, Argan Oil, Rosemary Essential Oil, and Cedar Essential Oil of that Contributes to Maintaining Healthy Hair, Reducing Moulting On Coat, Providing Relaxing Effects, and Helps in Destressing the Dogs. These essential Oils Not only Clean your Pet and Maintain the pH balance of the skin But also Removes Stinky Smell From the Body.
Pros
100% Pure & Natural Essential Oils
Non-Irritating Ingredients
No SLS, SLES, silicones,
Parabens- Free
Refreshing
Mild on Sensitive Skin
No Artificial fragrances
Provides Lathery Bath Experience
Cons
Recommended for Dogs Above 8 Months
4. Wahl 820000 4-in-1 Shampoo, Lavender Chamomile
Walh's 4-1 Shampoo and Conditioner is Formulated with Lavender and Chamomile that effectively Cleans, Detangles, and Moisturizes the Skin and coat. This All in One Shampoo is Suitable for Dogs and Cats Both it Leaves Their sKin Soft and Smooth. Its Calming formula Cleans Dirt under the Skin and its Hypoallergenic that Means Contains Plant-Based Alcohol and Paraben Free Ingredients that is Extremely Safe For your Pet. Its Lathery Formula Provides Thick Lather Even in a Little Amount That Gives your Pet a Relaxing and Calming Experience, Also Adds Shine to the Coat.
Pros
Ideal for Normal Skin Condition
Calming and Relaxing
Gentle on Skin
pH Balanced
Paraben-Free
Adds Lustre on Coat
Conditions the Coat
Cons
May Not Remove Ticks and Flea
5. Petlogix Natural Deep Cleansing Shampoo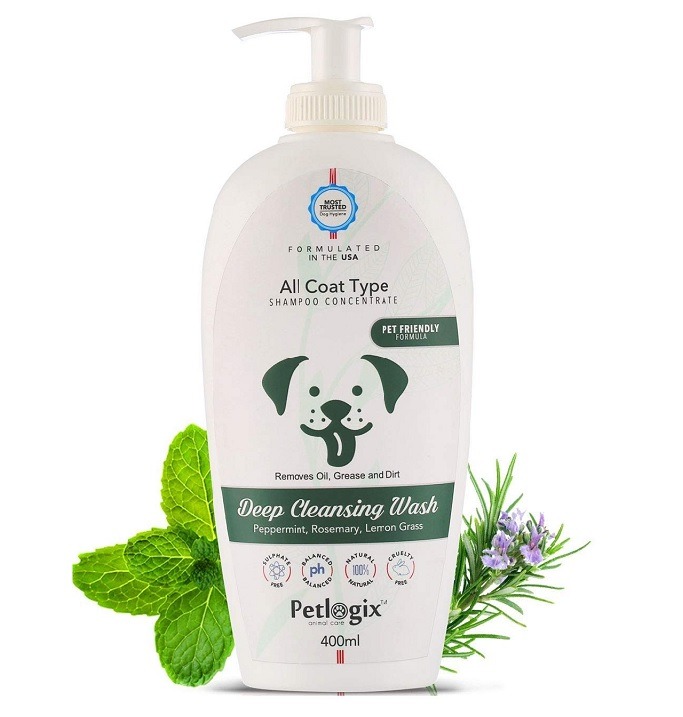 Petlogix Natural Deep Cleansing Shampoo is Ideal for Head-to Nails Clean Up of your Pet. It Contains Natural Ingredients Like Peppermints, Rosemary, and Lemongrass extracts that are a perfect solution for Removing Oil and Greasy Dirt From coats. All These Ingredients Helps in Treating Dirt, Grime, Slobber, Food, and feces from your dog. It not Only Keeps your Pet Smelling Fresh But also Cures Dryness and Itch in Skin. It Effectively Conditions, Hydrates, Moisturizes, and Deodorize The Coat. Moreover, it is Designed for Cats and Horses Too.
Pros
Deep Cleansing
Treats Oily and Greasy Skin
pH Balanced
Irritation-Free
Sulfate-Free
100% Natural & Premium
Moisturizes and Conditions Skin
Cons
---
How to Buy Shampoos For Dog- Buying Guide:
1. Identify your Pets Need – There are varieties of dog Shampoos in the Market, so Understand your Pet's Need and Buy the Shampoo that Solves the Pets Problem. It can be for regular Bathing, Tick & Flea problems, Itching Issues, Fungal & Bacterial problems, Hypoallergenic Skin, and Dermatitis.
2. Read Genuine Product Reviews- Sellers Often Post Fake Reviews So it is necessary to Identify Genuine Products and read real reviews.
3. Read Product Label Carefully- Sometimes Product Description Does Not Match The Actual Product. So it is Very Important to Read the Front and Back labels and Check the Ingredients used, other pieces of information, and Expiry Date.
4. Compare Price VS Effectiveness- A Product Should Deliver the Expected Result and Solve the Issue so it is Important to Choose a Product on the basis of its results rather than Pricing. Sometimes Cheap Products Deliver the desired results and Sometimes even the Expensive ones don't Fulfil the requirement.
---
Recommended Articles: