Benefits of Aloe Vera Gel
Aloe Vera is a Versatile Plant that has Been used in Various Remedies Since Ancient Times. Due to Its Effectiveness in Treating and Healing its Extract has been used in Cosmetics and Medicines. Due to its effectiveness, it is used in Hair and Skincare Products such as Shampoos, Sunscreen, Hair Oil, Facial Tissue and Moisturizers, etc.
Aloe Vera Gel on Has Numerous Benefits For Skin and Hairs Such As:
Sooth Burns
Act as Moisturizer
Prevents Sun Burn
Improves Skin Texture
Treats Skin condition Such As Frostbite, Psoriasis, Acne, Eczema and Rashes.
Minimizes Scars and Cuts
Strengthen hairs
Treats Itchy Scalp
Promotes Hair Growth
Prevents Hair Loss
Adds Shine and Glow on Hair
Makes Hair Silky and Shiny
So if you are looking to Improve your Hair and Skin Condition you Must Start Adding Aloe Vera to your Skin and Hair Care Routine. So, Here I Have Listed the Top 5 Aloe Vera Gel Products that you Should Try.
1. Forest Essentials Pure Aloe Vera Light Hydrating Gel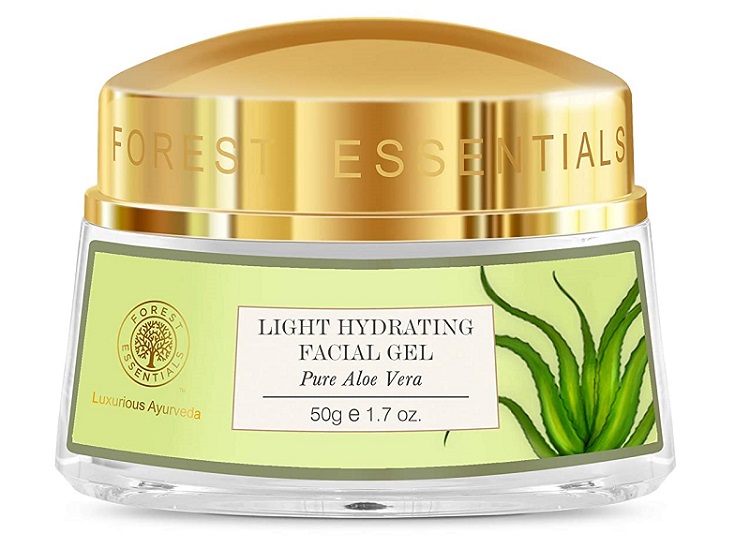 Forest Essentials Pure Aloe Vera Light Hydrating Gel is a Blend of Pure Aloe Vera, Refreshing Cucumber Extract, and Glycerin that Moisturizes the Skin. it Also Contains Natural Humectants Such as Wheat Germ Extracts that have Anti-aging Properties, which Repairs Damaged Skin Cells and improve Blood Circulation and Also it Has Ashwagandha Roots, which Stimulates the Immune System.
Pros
Sooths and Heal Skin
Replenish Moisture
Hydrates Skin
Suitable for All Skin type
Slows Downs Ageing
Softens Skin
Renews Skin Cells
Paraben-Free
No Chemicals and Petrochemicals
Cruelty-Free
Cons
2. WOW Aloe Vera Gel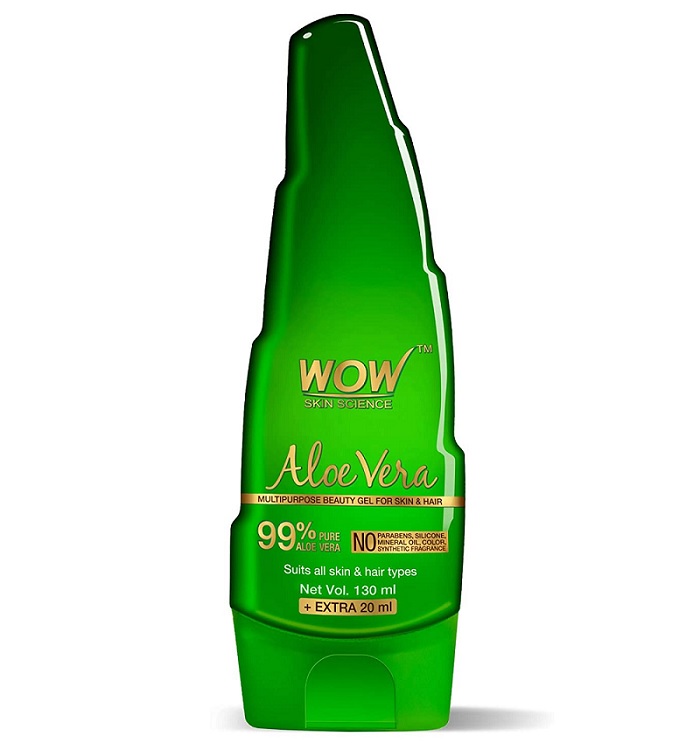 WOW, Aloe Vera Gel is a Multi-Purpose Product, It is a Moisturizer for Hairs and Skin and Can Be Used as Aftershave Lotion by Men and Women. It is Packed with Nutrients Like Vitamin A, C, E, and B12. This Product effectively Cures Cracked Heels, Conditions Hair, Sooths Sun Burn, and Control Aging. It Has Xanthan Gum that Boots Moisture in Skin and Citric Acid in it Helps in Lightening Pigmentation.
Pros
Improves Hair & Skin Structure
Deeply Moisturizes Skin and Hair
Removes Tan
Non-Sticky
Leightweight
Protects From Infection Causing Germ
Can Be used as Scrub (By Adding Sugar in it)
Paraben- Free
Silicon Free
No Mineral Oil
Cons
3. Mamaearth Turmeric Aloe Vera Gel
Mamaearth Aloe Turmeric Gel has Goodness of Pure Aloe Vera Gel, Turmeric, and Vitamine E. Aloe Vera Provides Nourishment to Skin and Hair. It Soothes Sunburn, Heals Cuts, and reduces Frizz in Hair. The Anti-Bacterial Properties of Turmeric Protects from Infection Causing Germs. This Product is Effective in Reducing Itchiness and Dandruff on Scalp and it Helps in Skin Brightening, And vitamin E Softens the skin and Protects from Damage.
Pros
Multi-Purpose
Quick Absorbing
Hydrates Skin
Moisturizes Hair and Skin
Treats Dandruff
Improves Hair and Skin Texture
Paraben-Free
Cons
Exposing to Sunlight May Can Tanning
4. Urban Botanics Pure Aloe Vera Gel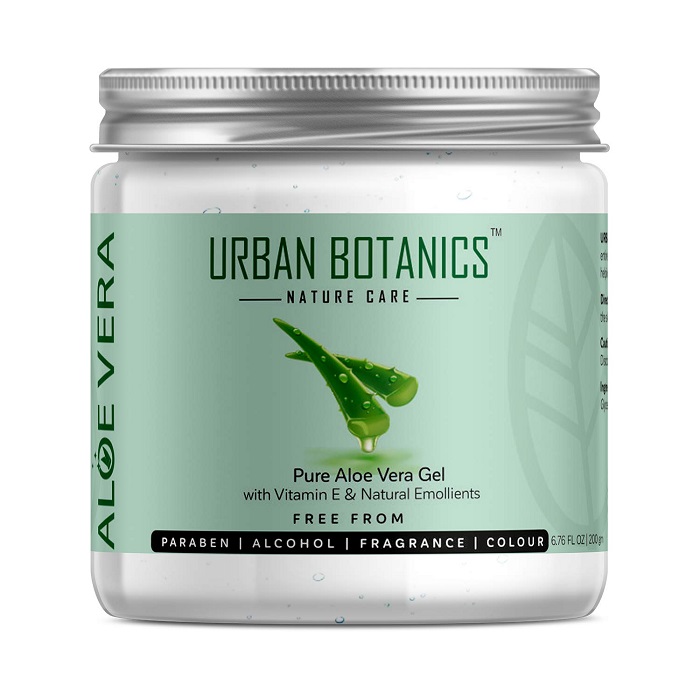 Urban Botanics Pure Aloe Vera Gel is a 99% Pure Moisturizing Gel, infused with Vitamin E and Natural Emollients. It is Extremely Effective in Nourishing the Entire Body. This product has Multiple Benefits on the Skin, Scalp, and Hair. It Soothes Sunburn and Helps in Healing Small Cuts. it Can Also Improve Hair Texture by Acting as a Natural Conditioner. it Repairs Damaged Hairs, adds Shine, and Eliminate Dandruff. This Product Can Also Be Used as a Base For Makeup and As an Aftershave Gel.
Pros
Retains Moisture in Skin
Improves hair Structure
Soothing
Quick Absorbing
Strengthens Hairs
Cons
5. Indus Valley Aloe Vera Gel With Lemon & Orange
Indus Valley Aloe Vera Gel With Lemon & Orange is Refreshing Aloe Vera Gel with Sunscreen Property. It is enriched with Anti-aging Properties of Lemon Peel extract, Orange Peel extract, Blueberry extract, Wheatgerm extract, and Grapeseed extract. This Product has Amazing Skin Protecting Ingredients like Natural zinc Oxide and Titanium oxide which are Secure from UVA and UVB Rays. it has Lemon oil which is rich in Vitamin B, C, and E that Reduces Signs of Aging, and the Notes of Orange in it helps in Acne Reduction.
Pros
Lightweight
Lightens Blemish
Improves Skin Texture
Quick-Absorbing
Offers SPF 22
Deeply Nourishing
Suitable for All Skin Type
Cons
---
Recommended Articles: