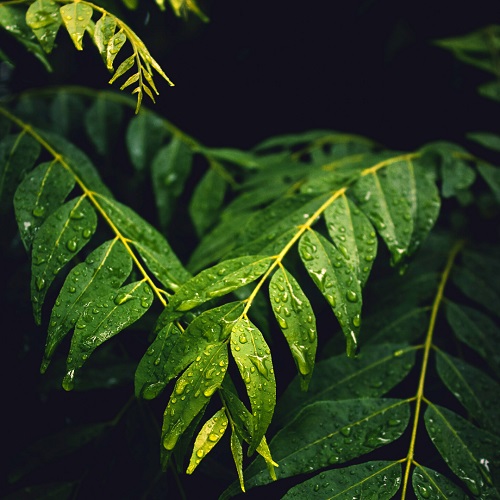 Curry Leaves commonly Know As Meetha Neem Or Kadi Patta are generally used as Seasoning in a variety of Indian Dishes to add Flavour and Taste. But Curry leaves have so many Health Benefits.
Controls Cholesterol
Prevents Premature Hair Graying
Fights Diabetes
Heals wounds, Burns, and Allergic Reaction
Improves Eyesite
Fights Cancer
Prevents Anaemia
Relieves Stress
Improves immunity
Fights Cancer
Great for Digestive System
Encourages Weight Loss
Curry Leaves are rich in :
Carbohydrates
Calcium
Phosphorous
Iron
Fiber
Vitamin C
Vitamin A
Vitamin B
Vitamin E
Curry Leaves have Wonderful Benefits For your hair.
1. Treats Damaged Hairs
Due to the Oily scalp, Pollution, and Chemicals from Artificial Hair Products Hair follicles gets Clogged and it Causes Hairfall, Itchy Scalp, and Dandruff which Leads To poor Hair health. Curry Leaves Assists in the scalp Restoration, it clears the Clogged Pores and helps them in Breathing and Growing faster.
2. Reduces Hairfall & Thinning
Hair Loss can occur due to lack of Protein, Improper Diet, Regular Hot Shower, and Rough Combing Techniques. Curry Leaves are rich in Beta-Carotene and protein, which prevents Hair Loss and Hair thinning. Curry Leaves have Antioxidants that moisturize the Scalp, Removes dead Follicles which is a cause of Dandruff and leaves are also rich in Amino Acid which helps to Strengthen Hair follicles and keep them Healthy.
3. Premature Graying of Hair
This can be caused due to Stress, Excessive Consumption of Alcohol, Smoking and Sometimes it is Genetic. Vitamin B in Curry Leaves Nourishes hairs, Strengthen the roots and Restore Colour
How To Use Curry Leaves For Hair Growth
CAUTION:
Do a Patch Test Before Applying It on your Scalp your skin might be allergic to Curry Leaves.
As a Hair Tonic
Take Handful of Curry Leaves
Pure Coconut Oil
Method
Heat the Pan and then add Coconut Oil into it
The oil will Splutter when you will add leaves so make sure to maintain distance right after adding the Leaves
Turn off the flame and let it cool
Use a Strainer and store in a bottle
Gently Massage your scalp with your fingertips
Leave it for an hour or a day and then wash it with a mild shampoo
Use this Remedy 2-3 Times a week you will Notice Hair Growth Within in a month
In your Diet
The Most Simple & Easy Ways of Adding Leaves In your Everyday Meal, which I Follow Strictly and Regularly are:
Add curry leaves in your rice
Take your pressure Cooker or whichever utensil you use
Take Rice, Rinse it twice add Water then add a Chopped Fresh Curry Leaves Stir it well
Then cook it as you regularly cook your rice.
Replace Corriander with Curry Leaves
Use it with Lentils After we cook lentils we usually add Water to make it a little Slurry instead of pouring water directly
Boil water in a pan and add Finely chopped Leaves stir it well boil it and when the water turns light green Switch off the flame add this water in lentils and then Serve Dish with rice.
Similarly, Instead, of making Plane Chapatti mix Leaves with Flour and then Make chapattis
Curry Leaves Tea
Boil Curry Leaves in water
Add a Bit of Lime & Sugar
Your Tea is Ready
As a Hair Mask
A Handful of Curry Leaves
Yogurt
Method
Add a handful of Leaves and yogurt (Depends upon the Lenght of your Hair) in a Blender and Blend until you Get Thick and Smooth Paste
Massage your Scalp with this Mask Apply it Gently From Roots to Tip
Wash it with a Mild Shampoo after 30 mins
And if you are Really Busy With your Professional Life Then There is even a More Easy way to Apply it What I Always Prefer
Boil Leaves in 1 Glass Water
Until The Water Turns Green
Let it Cool, Strain it then Pour it in a Spray Bottle
And Apply only in the Roots of your Hair
And if you Have Dandruff You Can also add Lemon Juice in it
It will Remove Dandruff and will add shine in your Hair
Add the Best Part is You can apply it Daily (without Lemon)
I hope all of these Tips Will Help you in Hair Transformation. Please Comment Down Below And Share your Hair Growth Tips and Methods.
---
Recommended Articles: